Single Mom Has Emotional Reunion With Hero After Surviving Cardiac Arrest and Coma and Gains Inspiration to Help Others
Jessica Hoover, a single mom of four and survivor of sudden cardiac arrest, is utilizing her traumatic experience and the inspiration she's gained from her hero, to dedicate her life to helping others as a life coach and inspirational speaker.
Press Release
-
Dec 16, 2015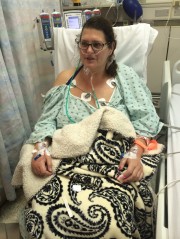 San Diego, California, December 16, 2015 (Newswire.com) - ​After experiencing sudden cardiac arrest during a run on the beach in San Diego that almost killed her, a year later Jessica Hoover is paying it forward by dedicating her life to becoming a life coach and inspirational speaker. She credits her miraculous recovery to David Raasch, her hero on the beach that day who stopped to perform CPR on a stranger until paramedics arrived. Hoover was recently reunited with Raasch and was inspired by his willingness to selflessly help someone in need.  
Surviving the impossible, Hoover is an inspirational speaker, certified life coach and writer. Through her journey and long road to recovery she has realized  life is not measured by accomplishments and possessions but by who someone is as a person. Hoover is on a mission to help women stand in their power, live a balanced and fulfilling life, and manifest their greatness.
Hoover, a single mother and sole provider of four children, was a dedicated mother and a highly regarded sales professional with a demanding, high-stress career. She often worked more than 10 hours a day with a two hour commute. Hoover decided to go on a run that fateful day in December 2014 to clear her head and relieve some stress but she collapsed almost instantly. Raasch, who was out for a bike ride when he saw Jessica lying on the ground with people surrounding her unable to help, immediately began administering CPR and continued until the paramedics arrived.
"Without David Raasch's knowledge of CPR and willingness to help, I truly believe I would not be here today," says Hoover. "I want to use my experience as a platform to bring awareness about CPR and heart disease in women, two extremely important issues where I believe I can make a positive impact. Through life coaching, I want to help others achieve their dreams and most importantly help women achieve the balance I was missing in my life."
While in the hospital, doctors gave Hoover little chance of survival or that she might be left with very limited brain function. But on the fifth day Hoover woke from her coma and was able to speak. Supported by the love of her children, she found the strength and determination to recover. Doctors determined a virus attacked Hoover's heart, and although she has gotten stronger, her heart only functions now at just 30 percent.  
Too weak now to manage the rigor of her previous work and inspired by an emotional reunion with Raasch, Hoover has decided to dedicate her life to helping others. Hoover has already completed her life coach certification and is becoming an inspirational speaker.
Hoover's friends have set up a GoFundMe campaign that has helped raise money for her long road to recovery and help be a catalyst to launch her new life coaching business. While she is still faced with mounting medical debt and the end of her state disability insurance, Hoover looks to bring inspiration and hope to clients as a life coach.
ABOUT JESSICA HOOVER LIFE COACH
Certified life coach, Jessica Hoover was inspired to dedicate her life to helping others find purpose and hope after experiencing life-changing cardiac arrest. To learn more, visit JessicaKayHoover.com.
Contact Information:
Jessica Kay Hoover
Integrated Life Coaching
Tel: 760-470-0141
Email:  jessica@jessicakayhoover.com
Share:
---
Categories: Women's Issues, Society, Charitable Contributions
Tags: heart attack, hope, inspirational, Jessica Kay Hoover, life coach, miracle, San Diego, single mom
---