Sinclair Technologies Announces IntelliSENSE 2.0 RF Power Monitoring Solution
Press Release
•
Mar 24, 2023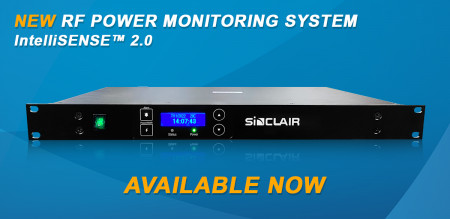 AURORA, Ontario, March 24, 2023 (Newswire.com) - Sinclair Technologies announces the new IntelliSENSE 2.0 RF Power Monitoring Solution - a revolutionary, complete RF monitoring solution for LMR, Cellular, Aviation, and Broadcast systems.
Sinclair's Power Monitoring Solution offers wide bandwidth, ultra-speed for real time monitoring, PIM optimization and the most thrilling feature of all - a unique spectrum analysis option allowing high-precision monitoring. IntelliSENSE 2.0 has the ability to monitor anything remotely at a radio tower site with a single device, detect interferences and identify the origin of any equipment desense.
Some of the features include:
All-in-one RF power monitoring solution for LMR/Cellular/Aviation/Broadcast systems
Future-proof wideband, high-precision, and channelized monitoring
Remote RF diagnostics eliminating truck-roll
Enabling preventative maintenance and reducing un-planned issues and outages
All major wireless technologies & bands supported
Spectrum analysis for comprehensive site and interference monitoring (optional)
Intuitive web-based graphical user interface
Secure user access and management
Flexible alarm setting
"Wireless operators today often deploy multiple wireless systems based on different technologies and RF frequencies. Managing a myriad of distinctively different wireless systems in a unified way is highly challenging due to different technical requirements in terms of application bandwidth, frequency, transmit power, number of carriers, scanning speed, etc. To help ease these challenges, Sinclair has launched the IntelliSENSE 2.0 Power Monitoring System solution to enable future-proof wideband, high-precision, and real-time channelized monitoring for LMR, cellular, aviation, and maritime wireless systems. Sinclair has also added an easy-to-use RF spectrum analysis feature to help detect and identify interference that negatively impacts system performance. Through proactive RF monitoring, operators can ensure wireless system reliability and optimized RF performance," says Wee Er, Executive General Manager at Sinclair Technologies.
IntelliSENSE 2.0 RF Power Monitoring Solution is available for immediate order. The first live demonstration of this product will take place on March 29 at the IWCE tradeshow in Las Vegas.
For more information, please visit www.sinctech.com.
Sinclair Technologies, a division of Norsat International Inc, is a leading designer and manufacturer of antenna and RF signal conditioning products, systems, and coverage solutions. Sinclair products are used extensively in public safety and private industry communication networks, such as emergency services, transportation, natural resources, and utilities. We have over 70 years of industry-leading expertise in all aspects of antenna and RF signal conditioning design and manufacturing.
-30-
Source: Sinclair Technologies