SimplyRFID Unveils RFID Inventory for Shopify at the NRF Big Show
Press Release
•
Jan 13, 2023
Retailers implementing SimplyRFiD's Wave RFID Inventory see an average increase in revenue of 10%. SimplyRFID brings Wave to Shopify, allowing retailers of all sizes to access fast, accurate inventory. See a demo of the future of retail inventory at the NRF Big Show this week.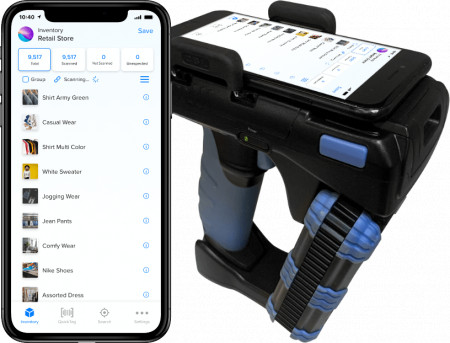 NEW YORK, January 13, 2023 (Newswire.com) - SimplyRFID's Wave 3.3.9 releases on January 20, 2023 and can be previewed at the NRF Big Show this week (Jan. 15-17) at booth #4246 in the Javits Center, NY. The most significant new Wave feature is direct data exchange with Shopify.
Quarterly inventories are obsolete. Today's inventories are weekly - even daily - and take minutes with SimplyRFiD's Wave RAIN RFID system.
Before RFID, the only choice was manual barcode counts that took a team hours and yet only 75-85% accurate (Source: Gartner Contemporary Retail Report, November 2021). Still, when RFID became viable around 2008, the value of RFID wasn't there because the concept of how to use a global accurate inventory didn't exist. As omnichannel and e-commerce became a driving requirement for retailers, connecting inventory at the store to the web changed the value proposition for RFID.
After a years of study at retailers, SimplyRFiD developed the business processes and workflows to help retailers get up and running with minimal effort and high confidence of a successful, fast rollout and built it into their Wave App.
How RFID works for Inventory with Shopify:
Sync Shopify product tables to SimplyRFiD's Wave
Wave will connect to Shopify and pull the product table in one-click.
Place an RFID tag on each item and assign a product name by scanning the UPC. Or, create SGTIN encoded RFID at manufacturing time - the ultimate solution.
Take Inventory with Wave and Sync, Weekly
SimplyRFiD will be at the NRF Big Show in booth #4246 from Jan. 15-17, 2023. On hand to discuss how SimplyRFID can help retailers improve their business processes with RFID will be Carl Brown, President, Eric Richmond, Vice President of Delivery, and Will Montalbo, Vice President of Marketing.
Wave works for retailers from one store to 1,000.
The SimplyRFiD Wave App runs on Apple iOS 16 and newer and connects with the most powerful retail RFID scanner, the CSL CS108 S. Focusing on the right hardware combination and perfecting it leads to a powerful and reliable inventory control system.
Single-store Wave RFID inventory systems are less than $3,000 with hardware, software and support. Per tag RFID costs $0.15 for 10,000 and less than $0.04 in for 500,000+.
Contact SimplyRFiD at Support@SimplyRFiD.com for a demo and process analysis. SimplyRFiD publishes How To Get Started with an RFID Inventory System as a primer for moving forward.
Source: SimplyRFiD