Simple Spirits Shines at the San Francisco World Spirits Competition
Press Release
•
Jul 7, 2023
Simple Vodka Wins Coveted Platinum, Hawthorn's London Dry Gin Awarded Double Gold, and Simple Spirits Named Innovator of the Year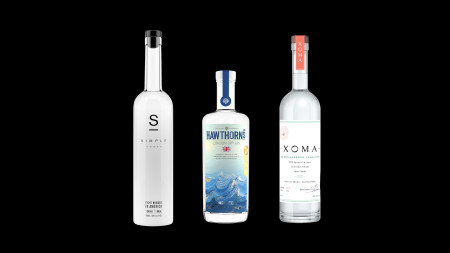 SAN FRANCISCO, July 7, 2023 (Newswire.com) - Simple Spirits, an emerging portfolio of premium spirits, is proud to announce its exceptional performance at the prestigious San Francisco World Spirits Competition (SFWSC). The competition, distinguished for its rigorous judging process and esteemed panel of experts, recognized Simple Spirits' unwavering commitment to innovation and creating spirits of the highest caliber.
Simple Vodka has carved a path of distinction by using farm-fresh Idaho® Potatoes and pristine water sourced directly from the renowned Snake River Aquifer. Following strict quality standards, Simple Spirits ensures that Simple Vodka contains no additives or secret ingredients. Simple Vodka delivers an authentic, ultra-smooth taste that has captivated the discerning palates of spirits connoisseurs. The groundbreaking achievement of a Platinum Medal further solidifies Simple Vodka's position as a leading producer of premium vodka.
Hawthorn's London Dry Gin was once again awarded the esteemed Double Gold Medal. This extraordinary gin, first crafted at sea by Hawthorn's founder Will Turnage's grandfather during World War II, honors a rich legacy of artisanship. Hawthorn's London Dry Gin offers a harmonious balance, featuring unique citrus notes that set it apart from traditional gins. Its consistent recognition at the SFWSC reaffirms the exceptional quality and craftsmanship that goes into every bottle.
Xoma Pulcatta made an impressive debut, securing a Silver Medal in the highly competitive agave spirits category. Handcrafted in cooperation with a network of milpa farmers in Puebla, Mexico, Xoma Pulcatta represents the revival of an agave spirit that dates back to the Aztecs. Circular farming methods ensure sustainability while preserving authentic flavors that make Xoma Pulcatta a uniquely superior agave spirit.
Simple Spirits was also recognized as Innovator of the Year. This distinguished honor acknowledges Simple Spirits' unique social-impact model, emphasizing the importance of brand ethos alongside product quality. The brand's mission to combat hunger in America by providing a meal through local food banks for every drink poured exemplifies its dedication to community support. To honor its naval lineage, Hawthorn's London Dry Gin takes it further by supporting U.S. Veterans in need, ensuring Simple's contributions extend beyond the spirits it creates.
"We are honored and humbled to receive the highest of honors from the esteemed judges at the San Francisco World Spirits Competition," says Danny Lafuente, CEO and Founder of Simple Spirits Company. "As a company, we exist to be more than just what's in the bottle - but the continued recognition for the excellence of our spirits makes it a lot easier to do the good we set out to achieve."
About Simple Spirits
Simple Spirits is a renowned portfolio of exceptional spirits dedicated to captivating the senses whilst elevating the soul. With an unwavering commitment to quality and craftsmanship, Simple Spirits has gained recognition for its award-winning spirits, including Simple Vodka, Hawthorn's London Dry Gin, and Xoma Pulcatta. Each expression is meticulously crafted using the finest ingredients and time-honored distillation techniques, setting a new standard for excellence in the spirits industry.
Learn more at www.simplespirits.co.
About SFWSC
The San Francisco World Spirits Competition is one of the oldest, largest, and most respected spirits competitions on the planet. Judges are highly esteemed, seasoned industry experts from around the world that convene to participate in a blind tasting to ensure fair judgment. Together, the people and the process make the medals given a universally recognized indicator of exceptional quality.
Learn more at www.thetastingalliance.com.
Source: Simple Spirits Company
Tags