Simple Soy Candle Co. Launches All Natural Soy and Pure Beeswax Candles
Cortney Byus, Owner and Creator of Simple Soy Candle Co., launches hand- poured, small batch natural candles to promote clean burning vessels that compliment every style of home from minimalist to bohemian.
Press Release
-
Jul 11, 2016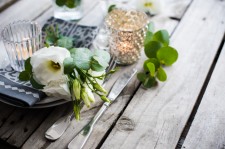 Fort Myers, FL, July 11, 2016 (Newswire.com) - August 1st | Fort Myers, FL
Simple Soy Candle Co.'s official launch will debut on August 1st, 2016.
"People love to know where their food and other items are coming from, and more and more people are buying local and handmade products to support their communities."
The launch will encompass Simple Soy Candle Co.'s Fall Collection. We invite you to attend our Open House Launch Party, open to the public held on
August 1st, 2016 from 6-9pm at the Wine and Design Studio in Fort Myers, FL
.
With the rise of soy candle popularity, large candle companies have begun to cut corners to increase margins when it comes to claims of "all natural, clean, and pure." Not all candles are as natural as their packaging states, misleading consumers into believing that they are making the "smart choice." Simple Soy Candle Co. aims to not only change the market by offering true-to-its-word clean burning, long-lasting soy and pure beeswax candles but also educating consumers on where their products are coming from and how they are made.    
Our Story
Cortney Byus created Simple Soy Candle Co. when her corporate America job began to stifle her creativity and entrepreneurial spirit.
As a self-proclaimed candle addict, her passion for and difficulty finding the best quality candles quickly turned into a hobby, which ultimately blossomed into what is now a full-time business. Cortney is full of passion and determination to change the market and is quickly gaining steam and avid followers across the U.S. for the variety of quality products she offers.  
Source: Simple Soy Candle Co.
Share:
---
Categories: Interiors and Decoration, Active and Healthy Living, Weddings, Community News, Bed and Bath, Business
Tags: beeswax, local business, natural candles, natural soy, shop local, simple living, upcoming business, wedding gifting
---