Silicon Valley Startup Blueberry Expands Its Village Marketplace Into Palo Alto and Sunnyvale, California.
Press Release
-
updated: Jun 21, 2016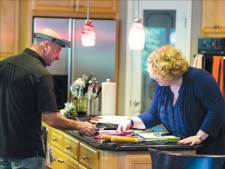 Palo Alto, California, June 21, 2016 (Newswire.com) - ​There's a new player on the block. Literally. 
Applying the concepts of demand aggregation and hyper-local group purchasing to home services, Silicon Valley startup Blueberry (www.blueberryhome.com) enables neighbors to band together for common maintenance needs, such as window cleaning, carpet cleaning, and tree trimming, as well as specialties such as mobile pet grooming, knife and tool sharpening, barbecue cleaning, and curbside document shredding.
"My grandfather was a milkman," says Blueberry co-founder and serial entrepreneur Wayne McVicker. "He knew everyone on his route... and everyone knew him. He thrived on that connection. My mother was a mail carrier. She'd come home and talk about the neighbors on her route as if they were family. Blueberry is bringing this rapport back to our communities. I, along with my son Weston, who is on our founding team, represent our family's third and fourth generation of neighborhood home service, albeit, with a twist this time."
Most home service professionals spend 25 percent or more of their time each day driving from job to job. With Blueberry, trusted pros pass through specific neighborhoods on pre-scheduled days, serving groups of homeowners near each other. Pros drive less, reducing labor costs, fuel use, and vehicle emissions. 
In the United States, home services are estimated to represent $800 billion in annual spending. "There aren't many market opportunities where one can remove $200 billion in cost while improving the quality of service and the environment all in one swing," comments CEO Damian Wolfgram. "Blueberry's big vision keeps us motivated each and every day."
In January, 2016, Blueberry launched their home services calendar into Mountain View, California. At the time, they were in the middle of a three-month accelerator program with NFX, a prestigious, invitation-only Silicon Valley guild for digital networks and marketplaces.
"Blueberry has a totally different take on the local services market that makes sense," comments James Currier, Managing Partner of NFX. "It is a network effect business that I want to use myself in Palo Alto."
In addition to the obvious cost and energy savings associated with serving groups of neighbors together, other personal and societal benefits abound. For example, as we age, it becomes increasingly difficult to perform common home maintenance tasks. Easy access to locally recommended, neighborhood-trusted service providers can make the difference between being able to comfortably stay in one's home versus moving into expensive assisted care.
According to the U.S. Department of Health and Human Services, people 65 and over represented 14.5 percent of the population in the year 2014, but are expected to grow to be 21.7% of the population by 2040. Beyond improving the quality of life for many seniors, extending the length of time that people can gracefully age-in-place is an essential component of controlling future healthcare costs.
And whether you are a retiree or a two-working-parent household, the process of searching and choosing home services can be daunting. The assorted service directories available online help filter out the least qualified pros, but they still leave the consumer with an overwhelming number of choices. 
So, homeowners put off getting things done, which is detrimental in several ways. Residents too often deny themselves the delight of living in a well-maintained home until they're preparing to sell it. And it is then that they realize that they've been neglecting their largest lifetime investment. 
Blueberry removes the provider selection process entirely. Members simply join a scheduled neighborhood group service event, and check it off of their to-do list. Ultimately, the primary service Blueberry delivers is the value of peace of mind.
"I am really loving having easy access to pre-screened and reliable service providers," says Judy Kitt, who has checked off 12 household tasks using Blueberry. "There are those little projects where you say, 'Yeah, I really gotta handle that.' Now I do. It feels like a weight off me."
"We've reimagined the neighborhood as a village marketplace," said CEO and co-founder Damian Wolfgram. "Now we're growing our footprint and increasing the types of services available."
This month, Blueberry expanded group services beyond its initial cities of Mountain View and Los Altos to include Palo Alto and Sunnyvale. Their web application is now available to the more than 67,000 single-family homes in these communities.
Amy Smiley, a Palo Alto resident, says, "I had heard about Blueberry for months and was excited to be the first person in Palo Alto to try it out. Their website was so easy to use. It was nice to get my windows cleaned through such a smooth process. I can't wait to sign up for more of their services."
Improving the home service experience is not just about finding the best pros. High-quality pros of the caliber suited for Blueberry care deeply about the service they provide. They are craftspeople who take their jobs personally. When their work is not appreciated, they'd rather just go elsewhere. For this reason, Blueberry is also selective about their neighbors. Those who love to haggle, don't value craftsmanship, or simply consider their house to be simply a place to eat and sleep are encouraged to look elsewhere.
Brian Barron, owner of Barron's Mobile Sharpening Service, observes, "After servicing this unique neighborhood community program, I have discovered it to be time efficient and lucrative, due to its organizational and demographic effectiveness. I have also enjoyed a customer base of grateful and excited homeowners."
"Neighbors grouping their jobs together saves time, money, and the planet," says Wolfgram. "Taking care of our homes should not be a burden. Airbnb makes being away feel like home. Blueberry makes being at home feel like a vacation."
About Blueberry HQ, Inc.
Blueberry, a privately held company founded in 2015, is a network of neighbors getting home repairs and services done together. Neighbors band together to care for their homes, give back to the community, and live a greener lifestyle. For more information, visit www.blueberryhome.com.
Media Contact:
Damian Wolfgram
CEO, Blueberry
damian.wolfgram@blueberryhome.com
Source: Blueberry
Share:
---
Categories: Home Improvement and Renovations, Web Services
Tags: age-in-place, home, pros, services
---