Signals Recognized, Earns 153 Badges From G2's Fall 2023 Reports
Press Release
•
Sep 25, 2023
Signals Recognized in 168 Reports and Earn 153 Badges in G2's Fall 2023 Report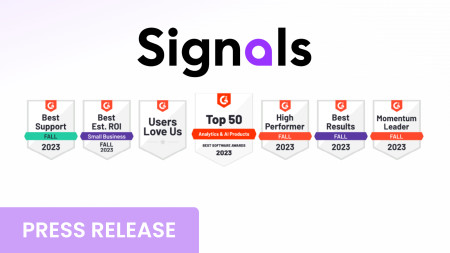 SILICON SLOPES, Utah, September 25, 2023 (Newswire.com) - Signals, the revolutionary revenue advising platform, stands out with significant recognition in G2's Fall 2023 Report.
In a new accolade to its ever-growing list of achievements, Signals has been recognized in 168 reports and has earned 153 badges in the highly esteemed G2's Fall 2023 Report.
These accolades testify to Signals' commitment to bridging the gap between buyers and sellers. The platform is designed to capture crucial analytics, interpret user actions, and guide businesses on their next strategic steps, effectively serving as the ultimate revenue advising tool.
Commenting on the achievement, Co-Founder Billy Bateman said, "Being recognized in 168 reports and earning 153 badges is not just a number for us. It reflects our relentless pursuit to serve our clients better and help them maximize their potential. We deeply value our users' trust and feedback on platforms like G2, inspiring us to enhance our offerings continuously."
G2 recognized Signals for top categories, including Best Results for AI Assistant, Best Support, Momentum Leader, Easiest Implementation for a Chatbot, Easiest to Use Buyer Intent and more.
G2, a trusted software marketplace, relies on user reviews and feedback to rate and rank platforms across various categories. To qualify for a spot in G2's reports, companies must have many approved and published reviews within the specified timeframe. The review data is pivotal in the ranking and badge allocation process.
Receiving reviews from customers like, "I can't live without it! Signals has been a game changer for our team. It has given me insights into our potential customers, and I am now able to engage with organizations who are ready to talk," and "it's been great to be able to engage with customers right when they hop on our site (via chat), without having to wait until they fill out a form or just hoping they fill out a form. It's also very insightful to know which companies are visiting our site," has helped us achieve this accomplishment.
Signals aims to equalize the separation disparity between buyers and sellers. By leveraging its advanced analytics, Signals interprets user behaviors to help your sales team identify who is ready to buy and close deals. It is the revenue advising tool designed for the next generation of businesses.
Leading companies, ranging from tech giants to burgeoning startups, trust Signals to guide revenue-generating decisions. The platform's advanced capabilities have proven instrumental in shortening sales cycles, generating highly qualified leads, and helping businesses decipher their buyer's intent. Discover the power of Signals and step into the future of revenue advising.
For more insights into Signals and its array of features, visit their official website.
Source: Signals