SignalBooster.com Makes Commercial Cellular Signal Boosters More Affordable
Press Release
•
updated: Jan 10, 2017
Wilson Pro 70 on sale now for only $100 more than the most powerful consumer grade signal amplifier.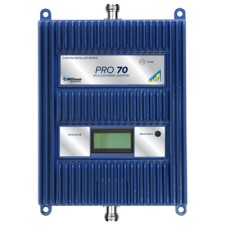 Houston, Texas, January 10, 2017 (Newswire.com) - A new limited time commercial cell phone signal booster pricing is causing quite a stir in the business world - particularly with small to medium enterprises that require coverage for as much as 25,000 square feet of real estate.
Both WilsonPro 70 kits with impedances of 50 Ohm and 75 Ohm with part numbers 465134 and 463134 respectively are on sale for a very limited time for $999.99 each (Regularly 1399.99). Each amplifier boosts cellular reception to up to 25,000 sq. ft. for all USA and Canadian carrier networks. Visit https://www.signalbooster.com/collections/wilson for more details.
Both versions of the booster kits are practically same except that installers prefer to use a 50 Ohm booster kit because they are slightly more powerful whereas 75 Ohm booster kit is used when there's already pre-existing 70 Ohm coaxial cabling within the building to minimize installation time, effort, and cost.
Professional installation service provided makes it convenient for businesses to implement cell phone signal boosting solution within their premises that lack good mobile reception.
With WilsonPro booster kits, enterprise-grade cellular coverage within large buildings is comparable to Distributed Antenna Systems - but at a fraction of the cost. Combined with expansion kits, designing a connected office with strong mobile reception has never been this simple or inexpensive.
Contact for sales and installation services information:
Phone: 1-855-846-2654
Email: order@signalbooster.com
Website: https://www.signalbooster.com/
About SignalBooster.com
SignalBooster.com, based in Houston, Texas, is an authorized reseller of efficient, high quality commercial grade Wilson Electronics signal boosters. The company offers an industry-leading sixty days money-back guarantee along with a three years limited manufacturer warranty. For more information, please visit the company's website, or connect via social media sites listed below:
Facebook: https://www.facebook.com/cellsignalbooster/
Twitter: https://twitter.com/signalbooster70
YouTube: https://www.youtube.com/c/Signalbooster
Google+: https://plus.google.com/+Signalbooster
LinkedIn: https://www.linkedin.com/in/signalbooster
Pinterest: https://www.pinterest.com/signalbooster70/
Source: SignalBooster.com