Shurikens and Cinema at Anime Expo
Press Release
-
updated: Jul 21, 2017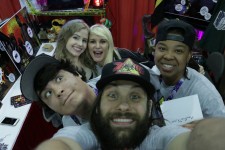 Los Angeles, CA , July 21, 2017 (Newswire.com) - Anime Expo, the largest anime convention in the country, took over Downtown Los Angeles earlier this month in a fiery storm of fandom, cosplay and of course, traffic. Produced by The Society for the Promotion of Japanese Animation (SPJA), Anime Expo's 26th event presented the massive crowd of attendees with over 800 hours of programming, 450 exhibitor booths, 150 performing guests, numerous premieres...
...while also proving it hasn't lost touch with the local artist community, with a massive area dedicated to 'artist alley' paired with the introduction of an indie film sure to become the next cult hit.
ZombieCON looks to truly earn its appraisal by We Are Indie Horror as "one hell of a ride in what promises to be a fun and future cult film".
Over 115,726 attendees made their way to the 4-day con. Generally waiting in lines, which, snaked around the Convention Center, for hours. And yet, there was a palpable feeling in the air - the crowd of anime fans was electric with energy - playing with handmade props, examining details in neighboring cosplayers' hand- sewed costumes, posing for group pictures...With so much entertainment booked for
Anime Expo
, a little expected 'line-con' couldn't ruin the mood.
AX 2017 hosted world premieres of hotly anticipated films: Cardcaptor Sakura Clear Card Prologue, Infini-T Force, The Ancient Magus Bride, the Tokyo Ghoul live-action movie (to name just a few), multiple US and Dub film premieres, headlining events like the Anisong World Matsuri, the World Cosplay Summit 2017, even an inaugural EDM concert ('Neon District'). Yeah, there was no shortage of top names from the Japanese entertainment industry.
Amongst the big-budgeted titles & premieres, the diamond in the rough and the weekend's unlikely showstopper was an upcoming indie film: ZombieCON the Movie.
But how did one small exhibitor booth manned by an indie team not selling a single product garner attention at this mammoth con?
Let's start with the marketing...finding the booth thanks to a breadcrumb trail of shurikens scattered all over the CON and surrounding area...
You arrived at a small exhibitor booth in the back of the CON, manned by an indie team of cosplaying filmmakers. Not selling a single product, other than an idea sold with immense enthusiasm, love, and passion.
And impressive enough to garner attention at the mammoth CON. The ZombieCON team handed out thousands of custom ninja stars ('Shurikens') over the 4-day expo. Each led back to the ZombieCON booth and could be found soaring through the air of the halls of the con, tossed by one laughing ZombieCON shinobi to another, and littering the floor along with thousands of
...other shurikens already laying in wait for any curious passer-by to discover. Manning the booth was ZombieCON's team of fresh leading actors & genius creator, whose passion was simply contagious. "Feature film premiering this year! ZombieCON the movie: Cosplayers stuck in a Zombie Apocalypse of Anime proportions!" was just the pitch to passerby, which became the start of many conversations, often causing groups of new friends to linger for minutes, sometimes hours, just to chat with the ZombieCON team about the movie, anime, cosplay, anything fandom.
ZombieCON looks to truly earn its appraisal by We Are Indie Horror as "one hell of a ride in what promises to be a fun and future cult film".
A red carpet marked the entry into ZombieCON's 10' x 10' standard inline booth, which featured two 60" TVs looping the movie's exciting extended teasers, an original movie soundtrack (by up and coming band Monday's Mona Lisa) blasting through the air.
Artwork from the ZombieCON manga adaptation and movie props stacked high into a strange, beautiful art sculpture.
Nothing studio. Nothing corporate. Nothing even for sale. Simply passionate young talents promoting their one of a kind film and one of a kind team - two members of whom are fiancés that own the indie production company behind ZombieCON, LA-based Big Squid Productions.
Anime Expo indeed maintains its title as 'the Largest Anime Convention in the Country' - and yet still introduces refreshingly indie artists and productions sure to alter the fabric of fandom and broader culture forever.
————————————————————————————————————
For information on ZombieCON the Movie: Website (teasers etc.): zombiecon.org
Manga adaptation: mewnowtv.com
Contact: erin@bigsquidproductions.com
Images courtesy of (in order):
ZombieCON Facebook
Dixie Hollywood YouTube @RealTDragon
We Are Indie Horror ZombieCON Website
Source: Indie Fresh Media
Share:
---
Categories: Internet and Streaming Media, Movies, Media Industry, Conventions, Trade Shows, Meetings and Events, Arts and Entertainment, Media and News
Tags: anime, comic book, cosplay, cosplayer, fandom, indie, indie film, movie
---