ShoulderSphere® Announces Exclusive Distributorship Agreement With Performance Health, a Division of Patterson Medical
Press Release
-
updated: Feb 14, 2018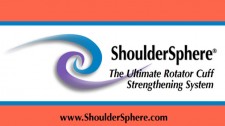 KATONAH, N.Y., February 14, 2018 (Newswire.com) - ShoulderSphere® is pleased to announce that it has become a Performance Health Gold Partner and entered into an exclusive distributorship agreement with Performance Health, a world leader in consumer healthcare and the largest global manufacturer and distributor of products to the rehabilitation, physical therapy, and sports medicine markets.
Developed exclusively for the Rotator Cuff by prominent New York Board Certified Orthopaedic Surgeon Win Chang, M.D., ShoulderSphere® is a revolutionary exercise device that strengthens the Rotator Cuff in a simultaneous and multi-directional manner.  This dynamic exercise device helps to prevent shoulder pain and to avoid shoulder injury which may require surgery.  Rotator Cuff muscles strengthened with ShoulderSphere® training help to prevent shoulder injury, maintain shoulder strength and enhance athletic performance.
Rotator Cuff weakness is the single most important predictor of shoulder pain and shoulder injury.  A weak Rotator Cuff hinders repetitive shoulder movements and is directly related to shoulder injury.  Close to five million patients seek medical care for shoulder pain in the United States each year. The overall cost for treatment of Rotator Cuff tears (including surgery) can be upwards of $40,000.00 and require up to one year for recuperation.
ShoulderSphere is a revolutionary device that strengthens the Rotator Cuff in a simultaneous and multi-directional manner.
ShoulderSphere® has applications for physical therapy and rehabilitation as well as for the athletic and sports communities.
At the present time, ShoulderSphere® is only available for purchase on ShoulderSphere.com and on Amazon.com.  In the near future, ShoulderSphere® will be distributed exclusively by sales representatives for Performance Health and its affiliate Medco Sports Medicine in over 105 countries around the world.  All sales representatives will be supported by Dr. Chang personally with training and education in conjunction with the Performance Health Academy.
ShoulderSphere® will be exhibited at the American Physical Therapy Association's Combined Section Meeting in New Orleans, LA (February 22-25, 2018), and at the Arnold Schwarzenegger Sports Festival in Columbus, OH (March 2-4, 2018).
Media Contact: Win Chang, M.D., President & C.E.O., winchangmd@gmail.com, (845) 216-0521
Source: ShoulderSphere
---
Categories: Healthcare, Healthcare and Medical News, Business
Tags: exercise, fitness, health, invention, orthopedic surgeon, orthopedic surgery, physical therapist, physical therapy, rehabilitation, rotator cuff, shoulder
---