Short Film "MY NAME IS MARIA DE JESUS" to Premiere at the Manhattan Film Festival
Press Release
-
updated: Apr 4, 2017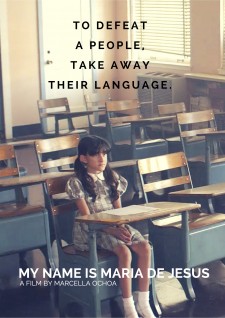 New York City, NY, April 4, 2017 (Newswire.com) - The short film MY NAME IS MARIA DE JESUS will make its world premiere at New York's Manhattan Film Festival on Saturday, April 22 at 3:15pm EST at Cinema Village, 22 E. 12th St, New York.  It's a relevant and timely short that explores the xenophobic society of 1950s Texas, and the Americanization process imposed on thousands of Mexican-American children.
The screening will be attended by the film's director Marcella Ochoa who is also the writer, producer, and lead actress.  She wrote the short film based on the true story of her family growing up in Texas.  This film seeks to raise awareness about the injustices Mexican-American children suffered, and how that period of Americanization continues to affect many second-generation children to this day, instilling shame of their culture and native language.
This is the directorial debut of Latina filmmaker Marcella Ochoa who is dedicated to creating content for diverse audiences as well as strong roles for Latinos.   The film was produced by 8A Entertainment production company, and also stars Ximena Pelaez-Munoz, Jasmine Linares, Susan Silvestri, David Saucedo, Geovanni Gopradi, and Jenna Purdy.
Screening Details:
Manhattan Film Festival
Sat, April 22 @3:15-5:00pm
Cinema Village, 22 E. 12th St., NY
Purchase tickets:
http://www.independentfeatures.com/view-screening/1018
A full synopsis and still photos available at www.marcellaochoa.com
About 8A ENTERTAINMENT, LLC
Marcella Ochoa is a Writer, Producer, Director, actress, and CEO of her production company 8A Entertainment.  She began her career in the International Publicity department for Sony Pictures Entertainment before heading into production. Her production company is currently in development on several TV and feature films. The company is dedicated to creating content for diverse audiences as well as strong roles for females, and breaking down barriers and stereotypes for minorities.  Contact: 8aentertainmentinfo@gmail.com
About Manhattan Film Festival
The MFF festival was founded by independent filmmakers that learned first-hand how hard it is to find an independent film an audience. For more than a decade they have worked to program a diverse film lineup that features student, emerging, and established filmmakers. You can learn more about the MFF at their website www.manhattanff.com
Source: 8A Entertainment Production Company
---
Categories: Movies, Agents and Representation, Arts and Entertainment
Tags: Femaledirector, Latinafilmmaker, Latinofilms, Manhattanfilmfestival, Marcellaochoa, Mynameismariadejesus, WIF
---