ShopAtDean Releases Guide to Running a Sustainable Restaurant in 2018
The restaurant wholesale supplier has created an Infographic guide to help restaurants become more green and eco-friendly this year.
Press Release
-
updated: Mar 27, 2018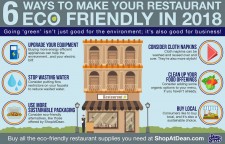 Cleveland, OH, March 27, 2018 (Newswire.com) - Not only is it better for the planet when a restaurant is eco-friendly, it can also be good for the restaurant. One study found that 65 percent of consumers said they would be either very willing or somewhat willing to pay more in order to eat at a sustainable restaurant.
ShopAtDean, a restaurant wholesale supplier, recently created an infographic guiding restaurant owners on how to make their businesses more green and eco-friendly this year. Several key practices stood out as effective ways to minimize a restaurant's impact on the environment.
The equipment and supplies a restaurant uses play a crucial role in how eco-friendly it is. While no restaurant owner enjoys purchasing new equipment, there are now plenty of energy-efficient appliances available, and it's well worth it to upgrade anything that's inefficient or has become outdated. These help the environment and cut down the restaurant's power bill every month.
ShopAtDean has some excellent eco-friendly alternatives to the Styrofoam container, such as stylish cups and bowls. When it comes to napkins, cloth napkins are preferable over paper because restaurants can wash them and reuse them, which means there's no waste involved. They also have a more elegant style than paper napkins.
Another big problem at many restaurants is wasted water. It's easy for employees to get into the habit of leaving water running longer than necessary, especially while washing dishes. A simple and effective solution to this is installing flow restrictors on every water faucet, keeping waste to a minimum.
Last but not least, where a restaurant gets its food is important. Consumers like to get locally sourced food whenever possible, as this supports the community and is a sustainable choice.
Considering the amount of food a typical restaurant uses, there's even more of a positive impact when a restaurant chooses to buy its food locally. This is also a great selling point, as research shows that a significant portion of every current generation takes the use of sustainable foods into consideration when choosing where to dine (41 percent of Millennials, 42 percent of Baby Boomers, 45 percent of Generation X and 53 percent of Generation Z).
Michael DeSatnik of ShopAtDean, says, "As consumers become more conscious of their environmental impact, they also base their buying decisions on which businesses have similar values. By prioritizing sustainability, restaurant owners can do their part to protect the environment and appeal to diners who appreciate eco-friendly businesses. Eco-friendly restaurant supplies, such as compostable plates, cups and napkins, can go a long way in achieving this goal."
The full infographic outlines six ways restaurant owners can become more eco-friendly, and can be found at the ShopAtDean blog. Media inquiries can be directed to Blair@Blair-Nicole.com ​
About ShopAtDean:  ShopAtDean is a family-owned business that dates back to 1950, when Sam, Lou and Abe DeSatnik started their restaurant and bar supply store in Cleveland, Ohio. Since then, it has been a community mainstay, and when its storefront burned down in 1973, the business's vendors and customers came together to assist in a rebuild at a new location. While the next generation of the DeSatnik family has since taken over and the business has grown considerably over the years, ShopAtDean has stayed true to its roots by remaining in Cleveland.
Source: ShopAtDean
Share:
---
Categories: Restaurants, Bars, and Catering
Tags: eco-friendly, eco-friendly restaurant supplies, restaurant wholesaler, sustainable business, sustainable restaurant
---