Shiprock Santa Fe Leads the Effort to Return Culturally Significant Reredos to Chimayo
Press Release
-
updated: May 9, 2018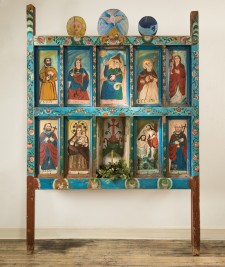 SANTA FE, N.M., May 9, 2018 (Newswire.com) - Shiprock Santa Fe is pleased to announce a public reception and talk by cultural historian, Will Wroth, and an exhibition of important 19th Century "Chimayo reredos" (altar screens) on May 18 from 5 to 7 p.m. at the gallery, located at 53 Old Santa Fe Trail.
The 19th Century "Reredos" originate from private chapels in Chimayo, New Mexico, and were recently discovered in the estate of artist Harry Brorby (1927-2012) of Tucson, Arizona. Brorby acquired the altar screens decades ago and until recently, they have remained in his private collection.
Jed and Samantha Foutz, owners of Shiprock Santa Fe, became aware of the Chimayo "Reredos" when local Santa Fe art dealer Will Channing was enlisted by the Brorby Estate to find a buyer for the artifacts. The Foutzes embraced Channing's conviction that the altar screens should be returned to New Mexico and agreed to exhibit the reredos at their gallery—allowing scholars and Spanish-Colonial Art enthusiasts to view the screens for the first time in over 40 years.
The larger of the two wooden reredos measures 12 x 8 feet and is hand-painted with depictions of nine Catholic saints. The screen is thought to date back to 1850. The smaller screen, 8 x 6 1/2 feet, dated and signed 1865, features images of Saint Rita, Our Lady of Solitude, Jesus of Nazareth and other religious figures.
In March, the Board of the Chimayo Museum voted in favor of receiving the reredos as a donation to the Museum. Chimayo Museum curator and historian Victor Dan Jaramillo said, "The return of either or both altar screens to Chimayo would be a happy event for the community and really fitting to have them back where they came from."
"The Reredos of Chimayo" are on display now at Shiprock Santa Fe through May 31, 2018.
For media inquiries, please contact:
Audrey N Rubinstein
The METTA Agency
505.490.5029
Audrey@themettaagency.com
About Shiprock Santa Fe: Shiprock Santa Fe gallery, located in Santa Fe, N.M., is one of the United States' foremost galleries for Native American art, including vintage and contemporary jewelry, historic textiles, pottery, basketry, and artifacts. Celebrating its twelfth year on Santa Fe's historic Plaza, the gallery was founded by fifth-generation expert Jed Foutz, who was raised on the Navajo Nation in a prominent family of Indian art traders. Foutz has a studied eye and an impeccable aesthetic which he uses to select the best Native American work, antique and contemporary, making him an important style resource for top fashion houses, designers, filmmakers and renowned art collectors. Foutz has expanded his family tradition by incorporating Mid-Century Modern furniture into his collection which, with its fine design, materials, and craftsmanship, complements works by Native American artists. Foutz's mastery of Santa Fe and Southwestern styles makes Shiprock Santa Fe gallery a necessary stop on any trip to Santa Fe. The gallery's knowledgeable staff is well versed in Native American fine art and provides both acquisition and appraisal services- working with clients looking to acquire a single object or to build corporate or personal collections. For more information, please visit https://www.shiprocksantafe.com.
Source: Shiprock Santa Fe
---
Categories: Visual Arts
Tags: Antiques, Art, Artifacts, Spanish
---