Shawstyle Productions and Shabazz Brotherz Presents: Baltimore Boxing Renaissance II at Martins West Manor
Press Release
•
Jan 3, 2015
Shawstyle Productions and Shabazz Brotherz Presents: Baltimore Boxing Renaissance II at Martins West Manor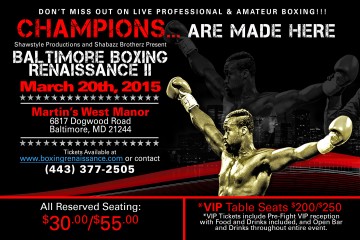 Baltimore, MD, January 3, 2015 (Newswire.com) - Contacts: Shawstyle Productions 443.562.3431 shawstyle@ymail.com or Shabazz Brotherz Boxing 443.377.2505 shabazz372@gmail.com
Shawstyle Productions and Shabazz Brotherz Presents: Baltimore Boxing Renaissance II at Martins West Manor
January 2015 - The Renaissance of Professional Boxing in Baltimore returns. After over a thirty-five year absence, Shawstyle Productions and Shabazz Brotherz brought Professional Boxing to Baltimore with the wildly successful inaugural showing of the Baltimore Boxing Renaissance in November 2014. This March, Shawstyle Productions and Shabazz Brotherz return with this Grand event that will undoubtedly thrill fans of the sport and those new to boxing. Baltimore will again make its mark as the epicenter of entertainment with the return of Professional Boxing. The ProAm Boxing event taking place at Martin's West Manor on March 20th will showcase Professional and Amateur athletes. The Boxing Renaissance will highlight the area's rising stars in the Professional ranks. Fans will enjoy the athletic prowess of both Male and Female Title fights and all weight classes.
This Pro-Am boxing event will also serve as platform for social and community change; supporting youth initiatives such as "Gloves Up, Guns Down" from the Elite SFN gym, the Wounded Warriors Project, St. Jude Children's Research Hospital, AIDS Action Baltimore, as well as the Cancer support organization H.O.P.E. (hopeforcancerfamiles.org).
All seating is reserved. VIP tickets include table seating, an exclusive pre-fight reception with food and open bar, and open bar throughout the night. Tickets are available at www.bmoreboxing.com, or by phone at 443-377-2505.
Baltimore Boxing Renaissance II
Friday, March 20 2015
Martin's West Manor
Tickets On Sale Now!
For more information please contact Shabazz Brotherz at 443-377-2505, or Shawstyle Productions at shawstyle@ymail.com, or by phone at 443-562-3431
Visit www.bmoreboxing.com
Related Media
Tags
Related Files