SharpLight Launches Cutting Edge Aesthetic Devices Powered by Proprietary DPC Technology
Dynamic Pulse Control (DPC) technology takes Intense Pulse Light (IPL) to new heights and delivers unprecedented aesthetic results
Press Release
-
updated: Apr 9, 2018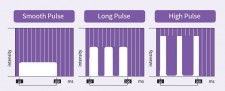 TEL AVIV, Israel, April 9, 2018 (Newswire.com) - ​SharpLight Technologies Ltd. announced today the launch of two advanced product lines – the OmniMax series and the Rapid series. The OmniMax devices offer 'all-in-one' solutions that house multiple technologies and allow aesthetic practitioners to treat a broad range of conditions, while the Rapid series is characterized by singular or dual technology devices designed to treat a particular aesthetic indication.
Both the OmniMax series and the Rapid series include devices that use Dynamic Pulse ControlTM (DPC) technology. DPC is SharpLight's flagship technology and constitutes an advancement of IPL (Intense Pulsed Light). As opposed to IPL, using DPC, aesthetic practitioners can choose from three pulse configurations – smooth, long or high. This flexibility facilitates a range of thermal effects, such as selective tissue heating to achieve neocollagenesis, increased heat to create a secondary wound-healing response and stimulate epidermal regeneration, and induced thermal damage for lesion clearance.
The safety and effectiveness of DPC technology has been shown in multiple clinical studies and it has been used to remove unwanted hair, decrease and eliminate active acne, rejuvenate the skin, decrease fine lines and wrinkles, improve textural imperfections as well as reduce unwanted pigmented and vascular lesions.
Dr. Michael Shohat M.D, from Aesthetic & Laser clinic in Israel, stated: "Since I discovered DPC technology there is absolutely no going back to IPL. With the Rapid DPC, I am able to treat my patients faster and the results are phenomenal. I use DPC across the board- for hair removal, skin tightening, pigmentation, acne and more. The device has been a great investment which paid for itself within 3 months".
Shlomi Ben-Avi, CEO of SharpLight Technologies Ltd. commented: "What sets SharpLight apart is that we not only develop devices and technologies, we own aesthetic clinics. As such, we have a deep understanding of the needs of our patients and industry trends. DPC technology was designed to deliver superior aesthetic results in a short and pain-free treatment. We are very pleased that all of the aesthetic practitioners that have used the technology have been delighted with the results, and as a company we promise to keep developing innovations that will drive the industry forward."
​
​About SharpLight Technologies:
SharpLight designs and manufactures non-invasive aesthetic medical solutions for treatment of a broad range of applications such as hair removal, body and facial contouring, acne improvement, pigmented and vascular lesion reduction and tattoo removal. The company is an expert in the aesthetic field and its proprietary DPC™ and VermaDerm™ technologies have redefined treatment effectiveness, comfort and speed. SharpLight's OmniMax series and Rapid series offer a full line of multi-technology and stand-alone aesthetic workstations powered by DPC, Radio frequency, VermaDerm and Laser technology.
For more information visit SharpLightTech.com.
Media Contact:
Abigail Calvet
International Digital Manager
abigail_ca@sharplightech.co.il
Source: SharpLight
---
Categories: Beauty and Cosmetic Products, Dermatology/Skin Diseases
Tags: acne, aesthetic treatments, DPC, hair removal, pigmented lesions, SharpLight, skin rejuvination, vasular lesions, wrinkle reduction
---