Shark Repellent Jewelry? in Kansas City?
Shark OFF - Shark Repellent Surfwear Jewelry Launches Kickstarter Campaign From Kansas City of All Places
Press Release
-
updated: Jan 18, 2019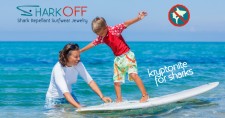 KANSAS CITY, Mo., January 18, 2019 (Newswire.com) - When Kansas City entrepreneurs Shea and Geoff Geist came up with the idea for Shark OFF – Shark Repellent Surfwear Jewelry, they knew they were in for a wild ride. They learned about the technology while watching Mike Rowe (of "Dirty Jobs" fame) interview one of the scientists that discovered and patented it. They were amazed that products using the technology weren't everywhere. While attending the Kauffman Foundation's FastTrac program, the Geists discovered the power of their vision. This product could help people "Lose the Fear" and "Love the Ocean."
"While our patented, proven active element is certainly effective, our mission is to help people get over their fear, enjoy time with their families and the beauty of our oceans," says co-founder Shea Geist. "In fact, you are more likely to die by icicle, cow or lightning strike than by shark bite. But that doesn't stop 90 percent of people - including me - from being terrified of sharks. It's our biology."
Even though the technology was already established and heavily tested, the Geists have spent the last year testing various compositions to find the most effective alloy. Finally, at the end of summer 2018, in conjunction with the Bimini Biological Field Station (aka Sharklab), field testing proved that the Geists' chosen alloy really is kryptonite for sharks.
Shark OFF launched into the world this week via a Kickstarter campaign. Join them on this amazing adventure to help people all over the world take a bite out of fear.
Geoff Geist
Big Kahuna (COO)
Shark OFF LLC
(855) 44-SHARK
hello@thesharkoff.com
Source: Shark OFF LLC
Share:
---
Categories: Business News, Tourism
Tags: beach kids, beach life, beach mom, beach resorts, beach toys, beach vacation, shark off, shark off jewelry, shark repellent, swim suit, swimsuit, the shark off
---