Sharing the Truth About Drugs on Martin Luther King Day of Service
Health and wellness expo brings community organizations together in North Sacramento
Press Release
-
updated: Jan 17, 2018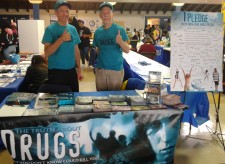 SACRAMENTO, Calif., January 17, 2018 (Newswire.com) - Nonprofits from across Sacramento marked Martin Luther King Day of Service by reaching out to the community at the 5th Annual North Sacramento Wellness Expo at Grant High School.
The theme was Mind, Body and Soul 2018 and among the services promoted were health screenings, athletic training, healthy eating and educational programs.
Kids learn why they should say no as it is not enough to 'Just Say No.'
Volunteers from Sacramento Chapter of the Foundation for A Drug-Free World shared information on the Truth About Drugs initiative, which helps youth make informed decisions to live drug-free. They handed out copies of Truth About Drugs booklets and videos and encouraged others attending to train as drug education specialists with their award-winning drug education curriculum.
The Truth About Drugs program offers a unique multimedia approach to educating youth about drugs. "Kids learn why they should say no as it is not enough to 'Just Say No,'" says Mike Klagenberg, Director of Public Affairs of the Church of Scientology Sacramento who coordinates the work of the volunteers. "We really owe it to our youth to provide the very best opportunity to succeed in life and that most definitely includes helping them avoid the tragedy of drug addiction."
The Church of Scientology and its members support the Foundation for a Drug-Free World, a secular nonprofit corporation that empowers youth and adults with factual information about drugs so they can make informed decisions to live drug-free. The Foundation's Truth About Drugs campaign is one of the world's largest nongovernmental drug education and prevention initiatives. Thanks to this support, the Foundation provides drug education booklets, videos and educator guides free of charge to teachers, mentors and civic and community leaders.
According to the United Nations Office on Drug Abuse and Illicit Trafficking, "Every dollar spent on prevention can save governments up to ten dollars in later costs."
Source: ScientologyNews.org
Share:
---
Categories: Non Profit, Religion, Substance Abuse
Tags: 5th Annual North Sacramento Wellness Expo, Body and Soul 2018, Church of Scientology, Foundation for a Drug-Free World, Martin Luther King Day of Service, Mind, Truth About Drugs
---