Shariawiz Honored as the Best Innovative Halal Solution at the Halal Expo and Summit 2020
Press Release
•
updated: Nov 3, 2020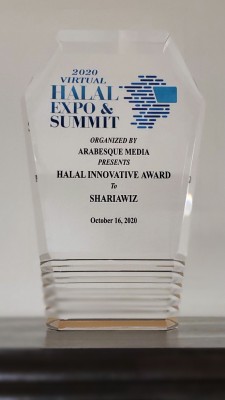 NEW YORK, November 3, 2020 (Newswire.com) - Shariawiz, the new estate planning website for Muslim Americans, was awarded the Best Innovative Halal Solution at the Halal Expo and Summit 2020 on Oct. 16, 2020.
Shariawiz is an online portal that offers legal forms and information about Islamic wills and Sharī'a rules of inheritance, including a scholar-certified Islamic Inheritance Calculator.
Shariawiz is where technology meets with Sharī'a to make estate planning designed for the American Muslim environment easy, affordable, and accessible to all Muslim Americans.
Muslim Americans can use Shariawiz to make a customized, Sharī'a-compliant estate plan that is legally valid in their state in as little as 15 minutes. The Shariawiz estate plan includes a Last Will & Testament, a Health Care Directive (Living Will), and a General Power of Attorney.
To learn more, visit Shariawiz.com.
-#-
Abed Awad is a founding partner of Awad & Khoury, LLP located in Hasbrouck Heights, New Jersey. His practice in the New Jersey/New York area focuses on general civil litigation, including complex matrimonial law, commercial law, Islamic law, and international law. Mr. Awad is AV rated by Martindale and is a fellow of the International Academy of Matrimonial Lawyers. Mr. Awad has native fluency in Arabic and is an international expert in Islamic law and the laws of the Middle East. Mr. Awad has testified, consulted, and/or provided expert reports for courts and attorneys throughout the United States, Canada, Europe, and Singapore concerning the interpretation and application of Shari'a (Islamic law) and the laws of Muslim countries.
Source: Shariawiz LLC