Shamrck Awarded Competitive Grant From the U.S. National Science Foundation
Press Release
•
Aug 3, 2023
R&D funding accelerates the translation of results to impact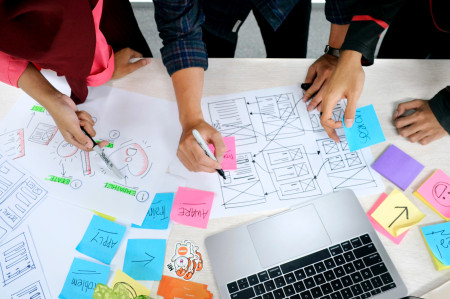 AUGUSTA, Ga., August 3, 2023 (Newswire.com) - Shamrck Social Impact Corporation has been awarded a U.S. National Science Foundation (NSF) Small Business Innovation Research (SBIR) grant for $275,000 to conduct research and development (R&D) work to enhance Science, Technology, Engineering and Mathematics (STEM) career awareness in minorities by engaging their interests and correlating those interests with real career aspirations.
The research aligns with diversity, equity, and inclusion goals in STEM fields, exposing students in secondary schools and providing support for career exploration that may need to be more equitably available to students. With the help of machine learning and artificial intelligence, the research is designed to evaluate the social impact involved in the misalignment of minorities in STEM fields and use technology to correct the alignment for larger, more prepared talent pools to increase diversity.
"NSF accelerates the translation of emerging technologies into transformative new products and services," said Erwin Gianchandani, NSF Assistant Director for Technology, Innovation and Partnerships. "We take great pride in funding deep-technology startups and small businesses that will shape science and engineering results into meaningful solutions for today and tomorrow."
"We will leverage artificial intelligence to help minority students reach their career goals in STEM fields while engaging technology companies to work with these students for short-term projects," said Sheffie Robinson, MBA, Chief Executive Officer. "Our activities will help businesses solve immediate project needs with entry-level professionals and create talent pipelines for future staffing needs."
About the U.S. National Science Foundation's Small Business Programs: America's Seed Fund powered by NSF awards more than $200 million annually to startups and small businesses, transforming scientific discovery into products and services with commercial and societal impact. Startups working across almost all areas of science and technology can receive up to $2 million to support research and development, helping de-risk technology for commercial success. America's Seed Fund is congressionally mandated through the Small Business Innovation Research program. The NSF is an independent federal agency with a budget of about $9.5 billion that supports fundamental research and education across all fields of science and engineering.
About Shamrck Social Impact Corporation: Shamrck is a talent marketplace that connects businesses with entry-level professionals for short-term projects in the United States. Businesses advise us of their needs and we facilitate short-term engagements, similar to freelance gigs, to introduce students to real-world experience in specific career fields. Projects range from marketing services to web development and administrative help, allowing businesses to solve short-term staffing needs with eager students seeking to gain real career-focused experience. Shamrck is a Delaware Benefit Corporation headquartered in Augusta, GA.
Source: Shamrck Social Impact Corporation