Shamans of the Global Village Documentary Launch by Umiimu
A revolutionary new online TV series that examines indigenous psychoactive medicines and the Western shamanic resurgence
Press Release
-
Sep 30, 2016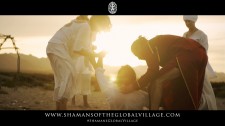 San Rafael, CA, September 30, 2016 (Newswire.com) - Umiimu.net is proud to release the first of 12 episodes of Shamans of the Global Village, a revolutionary new online TV series that examines indigenous psychoactive medicines and the Western shamanic resurgence,  launching October 1st.
Directed and shot by filmmaker Niles Heckman, who is a member of multiple Academy Award winning teams working on Hollywood features (www.nilesheckman.com), the cinematography captures the authentic and powerful human moments of shamanic ceremonies in unprecedented detail.
Host Rak Razam (journalist, author, filmmaker – Aya: Awakenings – www.rakrazam.com) leads the viewer on a journey beyond life, beyond death, examining sacred plant medicines that have been used for millennia to heal, illuminate and connect them to the web of life. But each of these psychoactive medicines also needs a healer to connect them to their patients: the shaman.
The two created the show together in 2015 with their production house Umiimu, and the pilot episode is due for release on October 1st, 2016 where it can be streamed FREE till Oct 8th at the official site: www.shamansoftheglobalvillage.com . The world premiere was Sept 23rd at the Raindance Film Festival in London.
Shamans of the Global Village examines what drives modern shamans, what their backgrounds are, and why the role of the shaman is vital in the 21st century. If, as Marshall McLuhan said, we are now a "global village", then we need our own healers that understand the deep power and sacredness these plant medicines can reveal.
Episode #1 features Dr. Octavio Rettig who has worked with the Bufo Alvarius toad medicine for over seven years in over 3,500 sessions treating serious cases of addiction like crystal meth (methamphetamine), and crack cocaine, achieving a high success rate with his patients, providing them with a new way of understanding life.
Can shamanism heal the body and illuminate the soul? Watch Shamans of the Global Village and find out…
MEDIA
www.shamansoftheglobalvillage.com
Trailer:  https://vimeo.com/151266545
SGV - Press Kit http://bit.ly/SGV-PrssKt  
Previews of the full episode available on request.
Media Inquires:  info@shamansoftheglobalvillage.com 
Niles Heckman  310 927 7070
Rak Razam       404 580 8095
Source: Umiimu.net
Share:
---
Categories: Internet and Streaming Media, Television, Online Programs
Tags: documentary, healing, health, shamanism, TV
---