Sewn Lakeside Announces Launch of the Small Fry Collection, Kid's Bags That Are Ready for Adventure
Press Release
•
Jul 19, 2016
Jennifer Baron, Owner and Creator at Sewn Lakeside, launches kids bag and accessory line to spark imagination and curiosity - pieces showcasing lots of personality to tote on life's journeys, where they take you.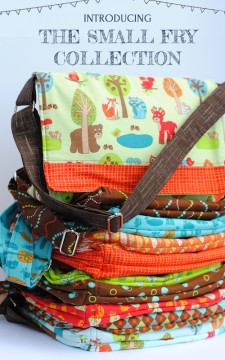 North Berwick, Maine, July 19, 2016 (Newswire.com) - Sewn Lakeside is proud to announce the release of its latest ten piece line, fittingly named The Small Fry Collection, designed and made with kid's needs in mind. The collection includes the kid sized, fun yet functional Small Fry Messenger Bag, along with playful coordinating accessories including the Slim Zipper Pouch, the Wide Mouth Pouch and the Fabric Key Fob. The bag and its accessories are a new perspective of what a kid's bag should look like, be and do.
"These bags and accessories were designed specifically to spark kids imaginations and sense of adventure. The woodland creatures featured in this line are perfect for letting your little one's big personality shine."
Jennifer Baron, Owner/Creator Sewn Lakeside
The Small Fry Messenger Bag is a compact bag with ample storage for kids that will inspire fun, curiosity and adventure. Featuring an outer pocket under the bag flap, it is perfect for kids to have their favorite treasures close at hand while keeping them completely secure. For smaller items, the bag has a discrete slip pocket on the inside. A Velcro closure secures the bag flap to keep kids' favorite belongings safe. With an adjustable shoulder strap, the bags are easy to adjust to carry comfortably for kids of all ages.
With vibrant woodland themed fabrics the bags are a delightful feast for the eyes that will ignite a spark of creativity and imagination in kids. Overall the design is functional and compact, perfect for school or play.
Sewn Lakeside also introduces the new Slim Zipper Pouch that is perfect for keeping smaller valuables safe and secure. While the pouch is larger than a traditional coin purse, it easily tucks inside the pocket of the messenger bag. With three limited edition woodland themed fabrics options, the pouches are designed to complement the Small Fry Messenger Bag of your choice.
The Wide Mouth Zipper Pouch is a fresh perspective on pouches introducing effortless visual and physical accessibility of a pouch's contents. Like the Slim Zipper Pouch, this pouch is available in three woodland themed fabric combinations and is lined with a coordinating neutral color fabric. The Wide Mouth Zipper Pouches also fit comfortably in the messenger bag.
With the belief that it is always the small things in life that make all the difference, the Fabric Key Fob is a vital, stylish organizational tool that solves the problem of losing keys inside a bag. The key fob features a sturdy fabric loop with a traditional key ring attached, making it small enough to tuck away in your bag yet big enough not to get lost in the mix.
Sewn Lakeside has been carefully handcrafting unique accessories for kids and adults since 2015 under the creative and talented leadership of Baron with a mission to provide accessories of the highest quality that make a big statement. The commitment to hand crafted, beautifully constructed and unique accessories for you and your little one is ingrained in this latest collection. Full of personality? Show it off with the unique and functional Small Fry Messenger bag!
To learn more about Sewn Lakeside and the new Small Fry Collection being launched on July 25, 2016 visit www.sewnlakeside.com or www.facebook/SewnLakeside.
Subscribe at http://eepurl.com/bMh8tv to receive discount codes, the latest product release information, and exclusive sale announcements.
Source: Sewn Lakeside
Related Media
Additional Links