Sewio Summit: The Power of RTLS in Overcoming Industry Challenges
Press Release
•
Aug 8, 2023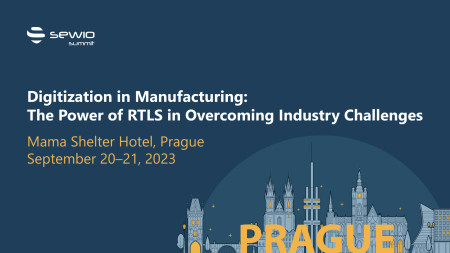 HOUSTON, August 8, 2023 (Newswire.com) - Sewio, a UWB-based real-time location system (RTLS) vendor, is thrilled to announce the third annual Sewio Summit, which will be held from Wednesday, Sept. 20, to Thursday, Sept. 21, 2023, at the Mama Shelter Hotel in Prague.
Titled "Digitization in Manufacturing: The Power of RTLS in Overcoming Industry Challenges", the Summit will showcase how RTLS technology and Sewio's partner ecosystem are helping manufacturing companies navigate the most pressing challenges of our time, including labor shortages, supply chain disruptions, and increased inbound costs, serving as an unparalleled platform for professionals and industry leaders to gain valuable insights, exchange ideas, and learn from the industry's top innovators.
Get inspired by real-world case studies and metrics-backed digitization success stories from industry innovation leaders who have leveraged RTLS to streamline their operations, increase efficiency, and drive profitability. Key speakers, including Roland Avar, Head of Business Unit at SICK, and Choon Jae Lee, CEO at TEIA Co., will share how RTLS has transformed their industries.
The Summit will feature an engaging program, diving deep into the wide-ranging applications of RTLS in various industrial scenarios. From the innovative use of 1D and 2D tracking in automating and enhancing visibility in automotive production to the application of RTLS in transforming production planning and processes in the field of modular construction. Attendees will be treated to inspiring stories about how companies gracefully navigate through challenging situations with the aid of technological innovations.
Apart from the insightful sessions, attendees will also have the opportunity to visit the PRAKAB Cabling Factory, a leader in digital innovation in the cable industry, where they can see first-hand the transformative power of RTLS in action.
"Innovation is the key to overcoming the challenges facing the manufacturing sector today, and we're excited to provide a platform where industry leaders can share their experiences, strategies, and successes using RTLS technology," said Milan Simek, CEO at Sewio.
To learn more about the Sewio Summit, or to register for the event, please visit our website at https://summit.sewio.net/.
About Sewio Networks
Sewio Networks is a manufacturer of a real-time location system (RTLS) that drives business results for manufacturers, warehouses, distribution centers, OEMs, and more. The Sewio system is built on ultra-wideband technology (UWB) and delivered with RTLS Studio, remote management and visualization software.
By giving partners and customers a precise, easy-to-integrate, reliable and fully scalable IoT solution for indoor location tracking, this enables companies to achieve greater efficiency, profitability and safety. Founded in 2014, Sewio has offices in the USA, UK, Germany and the Czech Republic. Sewio has 100+ system integration partners and powers customers in 45 countries. Sewio customers include Volkswagen, Toyota, Budweiser Budvar, TPCA, Škoda and ENEL. All product and company names herein are trademarks of their respective owners.
Source: Sewio
Tags