SewingMachinesPlus.com Announces Second Southern California Store Grand Opening
Press Release
•
updated: Mar 20, 2018
Grand Opening Event on Saturday, March 24, 2018, at 10:00 a.m.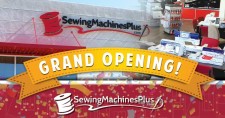 SAN DIEGO, March 20, 2018 (Newswire.com) - SewingMachinesPlus.com is pleased to announce the grand opening of their second storefront location in San Diego, California on Saturday, March 24, 2018, from 10 a.m. to 3 p.m. The store exclusively offers state-of-the-art sewing, embroidery and quilting machines ranging from the world's premier manufacturers such as Janome, Baby Lock, Pfaff, Brother, King Quilter, HandiQuilter and Bernina of America. The brand new 10,000 square foot store is located at 4606 Mission Bay Drive, San Diego, California. SewingMachinesPlus.com Mission Bay will host events and workshops designed for sewing enthusiasts at every skill level throughout its grand opening event, including a drawing for a range of sewing items that will be given away such as; notions, patterns, books and a trolley bag filled with sewing accessories, plus two exquisite sewing machines; a HandQuilter Stitch 710 (valued at $3495) and a HandiQuilter Stitch 210 (valued $595). In addition, special pricing will be available on select machines and every attendee will receive a free gift.
Commenting on the opening, Ron Martin, owner of SewingMachinesPlus.com said, "Sewing and quilting has always been a passion of mine and I am thrilled to have the opportunity to open our second sewing, vacuum and fabric store in San Diego County. After opening my first sewing machine store in San Marcos, California several years ago and later working with my sons, Chris and Cory, to expand our services online, we were very excited for the opportunity to open a second brick and mortar location." SewingMachinesPlus.com is family-owned and operated and includes a staff that also shares the love for the art of crafting, quilt making and sewing.
The company's Chief Executive Officer, Rick Leukert, stated, "We are very excited to become a business partner in the city and expand our brand and services to sewing and crafting enthusiasts in San Diego. We carry all of the most respected brands in the industry and I am proud to exclusively offer all of these state-of-the-art sewing, quilting and embroidery machines, fabric and accessories. Whether you are a beginner, an advanced sewist or just looking to learn a craft, we offer a variety of products and classes to meet your needs."
Throughout its grand opening week, SewingMachinesPlus.com Mission Bay will host several events for every level of sewist, such as product demos and test-drives on several products. Additionally, the location will have an in-store educator that will teach various beginner-sewing classes and other sewing workshops.
SewingMachinesPlus.com Mission Bay offers a variety of classes at different levels that focus on quilting, embroidery, clothing construction and home décor. All sewing classes are taught in a large classroom that is equipped with 180-inch high-definition screens and 90-inch televisions for any instruction video or lesson that is being taught. The location also has a factory–trained service technician who can repair and service all makes and models of machines and carries numerous vacuum brands.
For more information on SewingMachinesPlus.com newest Mission Bay location including store hours, please visit www.sewingmachinesplus.com/missionbay.php.
About SewingMachinesPlus.com
Founded in San Marcos, California over 14 years ago, SewingMachinesPlus.com is one of the nation's premier retailers with a proven reputation for offering state-of-the-art sewing and embroidery machines, sergers, embroidery software, fabric and notions. SewingMachinesPlus.com is family-owned and operated with two storefront locations in San Diego County, California and an online shopping website that caters to customers nationwide. For questions or to learn more, visit www.sewingmachinesplus.com or call 858-225-2739.
Follow us at facebook.com/SewingMachinesPlusSanDiego, twitter.com/Sewmachinesplus, instagram.com/sewingmachinesplusdotcom and pinterest.com/sewmachplus or on YouTube at youtube.com/user/SeamsAmazing.
MEDIA INQUIRIES CONTACT:
Melissa Fry
​PR and Marketing Consultant 760-715-5285
Melissafry613@gmail.com
​Olla Swanson SewingMachinesPlus.com Events Manager
916-813-6891
​olla@sewingmachinesplus.com
Source: SewingMachinesPlus.com
Related Media
Additional Links