Service Dogs by Warren Retrievers Delivers Seizure Response Dog to Woman in San Francisco, California
Press Release
•
updated: Jun 29, 2017
Seizure Response Dog to help young woman by providing life-saving skills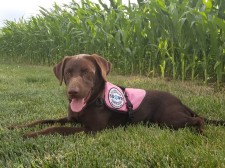 San Francisco, CA, June 29, 2017 (Newswire.com) - Today, Jessica will be welcoming into her home and heart a Labrador Retriever from Service Dogs by Warren Retrievers. Service Dogs by Warren Retrievers (SDWR), has a mission to provide specially bred and trained dogs for adults and children with invisible disabilities like Autism Spectrum Disorder, PTSD, Type 1 Diabetes, or in the case of Jessica — Seizure Disorder. Jessica's dog, named "Miley" has already begun its training as a Seizure Response service dog and it will continue to learn under the careful guidance of a certified trainer from Service Dogs by Warren Retrievers and through the rapport it develops with Jessica.
For over a year, Jessica has been living with the daily challenges of living with the Seizure Disorder diagnosis and the further complication of a PTSD diagnosis as well. Jessica, a former art teacher who loved working with her students in grades four through 8, has had to live with the daily anxiety of waiting for one or more seizures and their debilitating effects.
According to the National Epilepsy Foundation, two million people in the U.S. have epilepsy or seizure disorders. One in 26 people will develop epilepsy or seizure disorders at some point in their lifetime. And over 150,000 new cases of epilepsy or seizure disorders are diagnosed each year.
A Seizure Response service dog is trained to assist with tasks such as activating life-alert systems, finding someone to help during or after a seizure and stimulating a person during a seizure. A Seizure Response service dog is also trained to retrieve a phone or medications or food after a seizure has occurred. The dog can also act as a brace to help a seizure sufferer rise up after a seizure. And, these amazing dogs can also be trained to dial 911 on an emergency K9 phone.
Now with the arrival of Miley, Jessica will have a four-legged tool that has received foundational training to assist not only assist Jessica during her seizures but also help her live a more independent and less anxiety-filled life.
Jessica's dog will also work with the SDWR trainers towards public access training and certification. Dan Warren is quick to point out that, "all the incredible services these dogs can provide are through progression, hard work and dedication of the Organization and Jessica who must work together to build on training foundations and fundamentals. This is about an 18-month training program."
What sets SDWR apart from other nonprofit service dog organizations are the customized training methods and SDWR matches dogs to their "person." According to Dan Warren, "that important bonding time between dog and person can begin to happen right away. For the seven years we've been utilizing this method of dog placement, we've achieved amazing results." To date SDWR has placed almost 600 dogs working across the country and around the globe.
Service Dogs by Warren Retrievers is a non-profit organization based in Madison, Virginia, and relies on donations to help the Organization in its mission, "Until there's a cure … there's a dog." To make or donation or learn more about SDWR, please visit the website, http://www.sdwr.org. To learn more about Diabetic Alert Service Dogs visit http://www.sdwr.org/service-dogs/seizure-response/. To find out how you can volunteer or serve as a puppy raiser visit http://www.sdwr.org/volunteer-opportunities.
Source: Service Dogs by Warren Retrievers