Serial Entrepreneur Sameer Penakalapati Joins Dotin Inc. as Strategic Advisor and Board Observer
dotin Inc.'s involvement with the CEO of the AI-Powered ATS, CEIPAL, opens doors for acquiring strategic customers & investors, securing the company's position in the HR tech market
Press Release
-
updated: Jun 11, 2020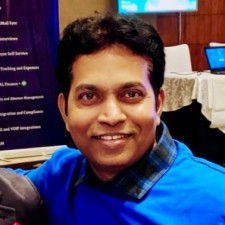 SAN FRANCISCO, June 11, 2020 (Newswire.com) - Sameer Penakalapati, a successful serial entrepreneur, joins dotin Inc. as a strategic advisor and board observer. dotin Inc. is a Business to Business (B2B) and Artificial Intelligence (AI) Software as a Service (SaaS) company that helps in sourcing, screening, up-skilling, and engaging talent in real-time, without asking any questions. The company has gained significant traction in the last month, acquiring critical customers and partners. Penakalapati's on-boarding is an exciting addition to the company's upwards trend.
As a serial entrepreneur, Sameer Penakalapati is an expert in the HR tech marketplace. "In the wake of COVID-19 and its impact on many businesses, talent analytics is more important than ever," said Penakalapati on the state of HR today. "With AI automation, enterprises will be able to make informed, unbiased talent decisions as they look forward."
Penakalapati expressed his enthusiasm regarding his new role at dotin Inc., saying, "What excites me about dotin technology is their ability to bring out the human-element of talent. This people-driven approach is critical at our present moment, as many teams are working and collaborating virtually for the first time."  
dotin Inc. is thrilled to have Penakalapati on board. Ganesh Iyer, CEO and Founder of dotin.us, cites Penakalapati''s influence and insight as a major boon for the company. "With someone like Sameer, who has built many successful ventures in HR Tech, on our team, our ground-breaking technology gains the visibility and credibility we need to continue the current pace of growth. With Penakalapati, we are expanding, and that's exciting."
"Ganesh and his team have made great strides over the last year around talent analytics," said Penakalapati. "I am proud to be part of this team both as an advisor and board observer."
Penakalapati's new role means deeper partnerships and faster market acquisitions for dotin Inc., keeping the company on the cutting edge of AI technology.
About dotin Inc.
Based in Silicon Valley, dotin Inc.'s proprietary, B2B AI talent analytics platform helps source, screen, upskill, and engage talent in real-time, without asking any questions. Tangible benefits include increasing hiring efficiency by 60%, instant upskilling recommendations per talent, significantly reducing attrition by an average of 23%, and significantly increasing productivity by 2.5x.
About Sameer Penakalapati
Sameer Penakalapati's founded Avani Technology Solutions in 2008, which grew from a startup to a thriving technology staffing company. He also envisioned the development of the group's flagship SaaS product, CEIPAL, which provides AI-driven talent acquisition solutions to staffing firms and corporate HR. In 2015, Penakalapati acquired Avani Business Park., and made it home for his successful ventures. In 2016, Penakalapati acquired Indotronix International Corp., a successful IT development and consulting firm. Under Penakalapati's leadership, Indotronix now employs about 1,000 people across the USA. In 2018, Penakalapati added Rochester-based digital marketing firm Accelerate Media to his group, and in 2020, he acquired Zoniac Inc. His ventures appear consistently in Inc. 5000, and for the past 5+ years, his companies have been listed in Deloitte Technology Fast 500. His ventures have also earned the #1 spot on the Rochester Top 100 list of the fastest-growing companies in the region.
Media Contacts
For more information on investment opportunities, please contact dotin Inc. at info@dotin.us
Source: dotin Inc.
Share:
---
Categories: Human Resources
Tags: Artificial Intelligence, Business to Business, EthicalAI, HR Tech, Human Resource
---