Serenic Navigator 2016 Extends Value, Improves Productivity and Increases Access
Press Release
-
May 10, 2016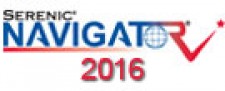 Lakewood, CO, May 10, 2016 (Newswire.com) - Serenic Software, Inc., a Sylogist Ltd. company, ("Serenic"), the leading publisher of financial management and business operations software for the public sector, including nonprofits and international non-governmental organizations (NGOs) built on a Microsoft Dynamics platform, announces that  Serenic Navigator 2016 is now available. 
Built upon the largest and most current Microsoft Dynamics platform, NAV 2016, this release refines and extends Serenic's core financial systems that address the unique challenges public sector, nonprofits, and NGO groups face.  Serenic Navigator 2016 offers significant new capabilities in mobility, report creation, and improved integrations with Microsoft Office and Office 365, while addressing a collection of important updates to the Serenic Navigator feature set.
"Serenic is committed to keeping our customers current with the latest advances in technology available through Microsoft releases" said Donna Smiley, Managing Director of Serenic.  "We will continue to take advantage of the research and development Microsoft puts into Dynamics NAV and tailor it to the needs of the public sector, nonprofit, and NGO communities.  It is our goal to continue to incorporate the relevant functions and features into Serenic Navigator from the Dynamics NAV platform and to innovate new functionality that allows our customers to support their respective missions through the most advanced financial solution available for their operations." 
Serenic Navigator 2016 delivers new value with enhanced application functionality and several levels of customer choice on how to deploy and access the solution. The Web client received more than 60 enhancements improving productivity and performance.  Reporting has been enhanced as a result of adding the ability to design report layouts by using Microsoft Word 2013.  Also new to Serenic Navigator 2016 is the introduction of key Warehouse Management features and the addition of related features for Inventory.
About Serenic Software, Inc.
Serenic Software, Inc. is an industry-leading publisher of mission-critical software products that satisfy the unique and sophisticated functionality requirements of public sector entities, nonprofit organizations, non-governmental organizations (NGO), educational institutions, and government agencies. Serenic delivers highly scalable software solutions which serve the needs of an international clientele. Serenic Navigator's multi-language and multi-currency capabilities meet the unique requirements for accounting and operational systems that must be implemented in multiple locations throughout the world.
To learn more, visit www.serenic.com or call 877-737-3642.
Donna Smiley
Managing Director, Serenic Software Inc.
(303) 980-6007
About Sylogist
Sylogist is a technology innovation company which, through strategic acquisitions, investments and operations management, provides intellectual property solutions to a wide range of public and private sector customers.  The Company's stock is traded on the TSX Venture Exchange under the symbol SYZ. Information about Sylogist can be found at www.sylogist.com.
Source: Serenic Software
Share:
---
Categories: Non Profit, Non-Profit Schools and Institutions, Computer Software, Financial Accounting, Enterprise Resource Planning (ERP), Accounting
Tags: grant management, NGO, nonprofit accounting, nonprofit financial management, nonprofit fund accounting, nonprofit software
---
Related Files
Additional Links