Sent From Heaven to Be Wing Men and Make That Girl More Than a Friend
The New Musical 'Angels at Work' Opens This Sunday at the Kraine Theater
Press Release
-
updated: Jul 16, 2018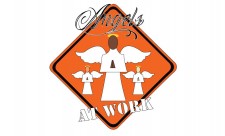 NEW YORK, July 16, 2018 (Newswire.com) - Today, The World Voice Ensemble, a theater company whose mission is to see diversity on stage, announced performance dates for its original musical comedy "Angels at Work."
This show, written by Japanese playwright Kuniki Ebihara was revised and translated into English by co-writers Jerel and Makie Armstrong, the president and vice president of The World Voice Ensemble. 
Jerel states, "I'd like to think of this piece as a zany love story that at times has a modern-day 'Mid Summer Night's Dream' vibe to it. It's also packed with 24 catchy musical numbers, many of which were written to teach some of the universal laws."
"Angels at Work" is a musical comedy about angels who are sent on missions to help lonely insecure people act on their feelings to find love. This show will perform for two nights only on July 22 and July 24 at 7 p.m. at the Kraine Theater. Tickets are $25 when purchased in advance and $30 at the door. Tickets are currently available for purchase at http://www.theworldvoiceensemble.com/angels-at-work-2018. This production proudly features artists who hail from Japan, Israel, as well as right here in New York City. 
Source: The World Voice Ensemble Inc.
---
Categories: Theater
Tags: #cheap theater tickets, #Comedy, #Musicals, #off-Broadway, #Show, #Theater
---