Senaptec Releases Quad Strobes - a New Breakthrough for Vision Performance
Senaptec, a leader in vision performance tools, announced the Quad Strobe Eyewear. Using established techniques of stroboscopic training, the Quad Strobes are a breakthrough for vision performance and proprioceptive therapy. Unlike anything available today, the Senaptec Quads allow coaches and practitioners to apply the stroboscopic training to a specific portion of the visual field.
Press Release
-
updated: Jan 31, 2018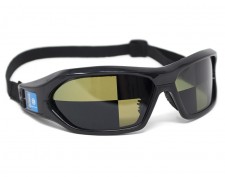 Beaverton, OR, January 31, 2018 (Newswire.com) - Senaptec, the leader in stroboscopic eyewear, is excited to announce the release of the Senaptec Quad Strobe eyewear.  Quads are the next generation of stroboscopic eyewear designed to improve reaction time, spatial awareness, balance, and visuomotor skills. Using liquid crystal technology, the lenses flicker between clear and opaque, removing visual information and forcing an individual to process more efficiently.  Using a patented segmented design, the new Senaptec Quad Strobe eyewear allows the user to select regions of strobing to customize a performance or therapy activity. 
Senaptec Strobe eyewear is used today to improve sensory performance by professional athletes and military special forces, and for therapy by health professionals.  The new Quad Strobes offer all the capabilities of the basic units and much more, significantly improving the precision in applications.  In this new version, each lens in the Senaptec Quad Strobe is segmented into quadrants.  From the glasses themselves or using the Senaptec Strobe App, the user can activate each region independently and customize the desired occlusion patterns, an incredible breakthrough that further enhances strobe eyewear capability and uses.
For sport performance, the Senaptec Quad Strobe can be programmed to the specific visual demands of the sport. Joe Bingold, CEO of Senaptec, explains, "Consider a person wanting to work on their peripheral vision.  With the Senaptec Quad Strobes, you can block the medial visual field and strobe your peripheral vision.  Or consider a basketball player who needs to keep their eyes up.  The segmented lenses can be easily programmed to consistently block the lower field of view while strobing the upper region."
The Senaptec Strobe eyewear has also been used by health professionals for injury recovery. For musculoskeletal injuries such as an ACL tear, the Senaptec Strobe has been used to reestablish neuromuscular pathways. Dr. Dustin Grooms, a research faculty member at Ohio University, has said "the brain fundamentally changes in how it processes information from an injured knee… The idea is to use these glasses to visually distract these patients, so their brains will rewire back to their original state."
Dr. David Rosenthal, a functional neurologist, had early access to prototype Quad Strobe units.  Dr. Rosenthal observes that "the Senaptec Quad Strobe is an essential part of my armamentarium in evaluating, managing and supporting complicated clinical cases.  The variability of the lenses allows me to isolate each quadrant and apply a specific therapeutic input.  The clinical outcomes using the Senaptec Quad Strobes far exceed any technology currently available to me in the marketplace."  
The Senaptec Quad Strobe eyewear is protected by multiple patents and available for sale directly from Senaptec or through their distributors. For more information, please contact Senaptec at 888-855-2091, email info@senaptec.com, or visit the Senaptec website at www.senaptec.com
Share:
---
Categories: Training and Coaching
Tags: awareness, balance, peripheral vision, reaction time, segmented lens, Senaptec, strobe eyewear, strobes, vision, vision performance
---