Semi-Finalists Announced for the 2023 Transition Trucking: Driving for Excellence Award
Press Release
•
updated: Sep 6, 2023
A Record Number of Nominations Leads to 17 Semi-Finalists for the 2023 'Transition Trucking: Driving for Excellence' Award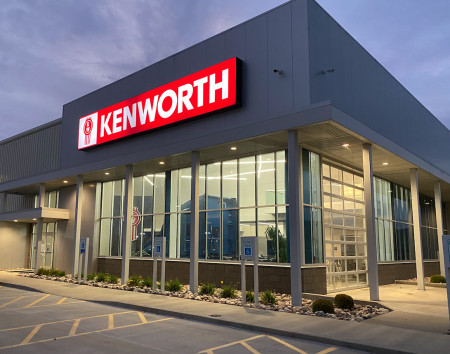 WASHINGTON, September 5, 2023 (Newswire.com) - After a record number of nominations for the 2023 "Transition Trucking: Driving for Excellence" award, Kenworth, FASTPORT, and the U.S. Chamber of Commerce Foundation's Hiring Our Heroes initiative announced the semi-finalists for the ultimate prize: a Kenworth T680 Signature Edition truck. Launched in 2016 as part of an overall plan to recognize the achievements of veterans transitioning into the transportation industry, this year's program semi-finalists represent each branch of the United States Military, including the National Guard and Reserve.
Andre Matthews, U.S. Army (O-4), Melton Truck Lines
Anthony Nelson, U.S. Air Force (E-6), Roehl Transport
Brandon Meredith, U.S. Army (E-7), Slay Transport
Christian Slingerland, U.S. Army (E-5), Paschall Truck Lines
James Ferrante, U.S. Navy (E-5), Epes Transport System LLC
James Smith, U.S. Army (E-4), Viking Electric
Jeffrey Pitts, U.S. Air Force and Air Force Reserve (E-3), NFI Industries
Jessica White, U.S. Army (E-5), Stevens Transport
Kareem Isaac, U.S. Army National Guard (E-4), Ryder
Joseph Harmon, U.S. Marine Corps (E-4), USA Truck/DB Schenker
Larry Todd Kraus, U.S. Army (CW3), Werner Enterprises
LaTravis Wilcox, U.S. Marine Corps (E-8), Prime Inc.
Ondrae Meyers, U.S. Marine Corps (E-7), CRST
Ryan Buttenob, U.S. Air Force (E-4), Schneider
Tameca Dale, U.S. Army Reserve (O-4), US Army/Kingdom Message Carriers LLC
Tobie Myers, U.S. Army and Army Reserve (E-2), Putnam Trucking
William "Bill" Masters, U.S. Air Force and Army National Guard (E-4 and E-5), Veriha Trucking
In recognition of Kenworth's 100th anniversary, this year's award is the T680 Signature Edition truck, equipped with a 76-inch sleeper and the PACCAR Powertrain featuring the PACCAR MX-13 engine rated at 455 horsepower, PACCAR TX-12 automated transmission and PACCAR DX-40 tandem rear axles.
"Kenworth is honored to again participate in this year's 'Transition Trucking: Driving for Excellence' program to recognize the service of distinguished military veterans and encourage the trucking industry to provide career opportunities and support," said Kyle Kimball, Kenworth director of marketing. "Congratulations to this esteemed group of semi-finalists as they vie for the T680 Signature Edition truck in Washington, D.C."
As part of the eighth annual award program, the semi-finalists will be honored throughout the month, and each will attend a ceremony at the National Veterans Memorial and Museum on Sept. 21 in Columbus, Ohio. The following day will include a tour of the Kenworth Chillicothe manufacturing plant and a ceremony at the MHC Road Ready Center where semi-finalists will be recognized and finalists continuing in the program will be announced.
"The Transition Trucking award campaign is an opportunity to highlight the impact veterans are making in the transportation industry and introduce a new generation of veterans to the real economic opportunity a career in trucking can represent," said Eric Eversole, president of Hiring Our Heroes and a vice president of the U.S. Chamber of Commerce.
"This year was the hardest year yet to select the semi-finalists. It's the most diverse group in the program's history, and we are proud to be able to recognize them and each branch of the military through their stories," said Brad Bentley, president of FASTPORT, Inc. "This is an incredible group of drivers who show us that the future of this industry is in good hands."
Those select finalists and the ultimate winner will be part of a greatly expanded veteran-focused week that includes a Veteran-Ready Summit on Dec. 14, the Transition Trucking: Driving for Excellence Award announcement on Dec. 15, Employment Support of the Guard and Reserve (ESGR) Statement of Support Signing Ceremony later that afternoon, and Wreaths Across America on Dec. 16.
A public vote will occur online from Nov. 1 until Veteran's Day. This voting is an important determiner for the award's Selection Committee, which makes the ultimate choice for the next Transition Trucking award winner.
About FASTPORT
FASTPORT, Inc. solves America's toughest recruiting challenges through research, technology, and people. FASTPORT is also a U.S. Department of Labor Industry Intermediary and a part of the Centers of Excellence to support apprenticeship development and sustainability. For more information about FASTPORT and Registered Apprenticeships, visit www.fastport.com or www.nationalapprenticeship.org.
Source: FASTPORT