Self-Employed People in the Hair or Nail Business Each Have Their Own Annual Tax Mess Organizer
Hair and nail technicians, barbers, manicurists and salons have two books in the Annual Tax Mess Organizer series. These books simplify IRS tax laws as they apply to the nail and hair care professional. The 2016 edition includes organizational forms and is available in both a print and Kindle edition.
Press Release
-
Jan 15, 2016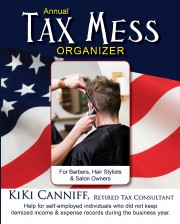 Keizer, OR, January 15, 2016 (Newswire.com) - Most barbers, beauticians, manicurists and nail techs who rent space in a shop or salon are considered self-employed by the IRS and required to file a Schedule C tax return. And, even though it may be easy to find someone to prepare your tax return, unless you know exactly what the IRS expects of a self-employed person in your business, your tax return will not be accurate. You also won't get the best tax breaks.
This new edition includes organizational forms for self-employed nail and hair workers, and a lot of manicurists, beauticians, barbers, hair and nail techs who rent space will benefit from this book. The updated edition of the Annual Tax Mess Organizer for Nail Techs, Manicurists & Salon Owners, simplifies IRS tax laws as they apply to the nail care professional; the 2016 Annual Tax Mess Organizer For Barbers, Hair Stylists & Salon Owners, only applies to the hair care professional. The author explains how to get that tax return right, and to do the job quickly.
You'll learn exactly what you can and cannot deduct, how to quickly sort receipts, track tips, document income, and create a simple report with all of the numbers needed to prepare a Schedule C tax return. This book also outlines a simple method and includes forms for tracking business income and expenses that will pass any IRS tax audit. Take the forms in this book to the tax pro, or use it to complete your own tax form; instructions are included.
Written by a retired tax consultant, KiKi Canniff, these books make tax laws easy to understand. Published by One More Press and available on Amazon.com, these two books are part of a series of tax organizers for self-employed professionals. Organizers are also available for independently employed massage therapists, home party sales reps, building trade contractors, writers, artists and other self-employed individuals.
---
Categories: Small Business, Beauty and Personal Care, Vocational; Training
Tags: manicurist tax help, tax for cosmetologist, taxes for beauticians barbers, taxes for nail tech, taxes nail spas salons
---