Seidor Strengthens Its Analytics Area With the Acquisition of Clariba
Press Release
•
updated: Nov 12, 2020
The technology consulting firm acquires a majority stake in Clariba, one of the leading companies specializing in analytics in Europe and the Middle East. The transaction increases Seidor's analytics area by 33%, creating an aggregate turnover of 37 million dollars and adding 60 professionals to its team for a total of 315. Seidor strengthens its commitment to a strategic segment in data management to optimize business decision-making thanks to advanced analytics, Big Data and Artificial Intelligence (AI).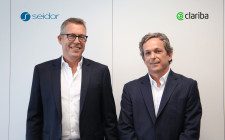 HOUSTON, November 12, 2020 (Newswire.com) - Seidor, the multinational consulting firm specializing in technology services and solutions, has acquired a majority stake in the consulting firm Clariba, which is headquartered in Barcelona and Dubai and specializes in analytics services. The transaction enables Seidor to strengthen its strategic commitment in this area and thus continue to optimize and improve business decision-making through data management.
The acquisition of Clariba gives Seidor's analytics area an aggregate turnover of 37 million dollars, a rise of 33% in sales turnover, and adds 60 professionals to its team, making a total of 315.
Josep Benito, the President of Seidor, says, "The acquisition of Clariba means Seidor fortifies its position in a strategic field of importance and potential within the IT sector. We are delighted to be strengthening our presence in the key areas of digital transformation, such as business intelligence, analytics, Artificial Intelligence, machine learning and other processes based on data management for decision making."
In the view of Marc Haberland, the founder of Clariba, "This partnership will enable us to boost our presence in the Middle East and Europe thanks to the technological capacity, market positioning and expertise that a multinational like Seidor enjoys at the global level".
Seidor USA President and CEO Tomas Fertig sees the deal as a way to empower the company's ability to continue creating cutting-edge business and technology solutions in the analytics field. "We are excited to join forces with Clariba. This acquisition will greatly expand our ability to offer to our customers business analytics tools for real-time insights through machine learning, AI and business intelligence for them to be able to analyze past and present situations, while simulating future scenarios. This is a win all around," he said.
This strategic transaction enables Seidor to grow its business volume and consolidate its positioning as a multinational consulting firm by strengthening its presence in the Middle East, a region in which Clariba has strong penetration (70% of its turnover) and where it will continue operating with the same brand. The acquisition makes Seidor one of the principals global leaders in analytics and the leading company specializing in analytics with SAP technology in the Middle East.
In the same way, Seidor is positioned as a leading IT consulting company in MENA, with a team of 125 professionals and activity in Saudi Arabia, UAE, Qatar, Kuwait, Egypt, Lebanon and Israel.
In addition, the acquisition allows Seidor to increase support for the operations it carries out in the other regions in which it operates. It also complements the company's range of business services and solutions in SAP and other technologies such as Tableau, Qlik, Microsoft and Adobe in order to continue helping its customers to make business decisions through technology.
Source: Seidor USA Corp.
Tags
Additional Links