Seidor Revalidates the SAP Pinnacle Award as the Top Partner in the SME Space
Press Release
•
updated: Apr 6, 2020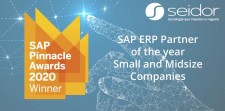 HOUSTON, April 6, 2020 (Newswire.com) - ​Seidor, the multinational consulting firm specializing in technological services and solutions, receives for second year in a row the 2020 SAP® Pinnacle Award as the ERP Partner of the Year – Small and Midsize Companies, in recognition for its outstanding contribution in the SME space.
It is also the fifth consecutive year that Seidor receives an SAP Pinnacle Award in its different categories: in 2019, "ERP Partner of the Year – Small and Midsize Companies" category, in 2018 SAP Cloud Partner of the Year – Small and Midsize Companies and SAP Partner of the Year – Analytics & Insight, in 2017 SAP Business One Partner of the Year and in 2016 SAP Pinnacle Award as Value-Added Reseller of the Year. Last and for a total of six SAP Pinnacle Awards, SAP recognized Seidor in the Cloud Value-Added Reseller of the Year category in 2014.
SAP presents these awards annually to the top partners that have excelled in developing and growing their partnership with SAP and helping customers run better. Winners and finalists in 34 categories were chosen based on recommendations from the SAP field, customer feedback and performance indicators.
"Our industry has seen a lot of change over the past decade, but what hasn't changed is the strength and scale of our ecosystem," said Jennifer Morgan, Co-CEO of SAP. "Our partnerships give us the ability to be a part of the broader conversation and their impact is both evident and critical to our customers' success." Christian Klein, Co-CEO of SAP added, "Partners are the heart and soul of our vision for the Intelligent Enterprise and play an important role in turning this vision into reality for our customers. We are looking forward to jointly delivering success to our customers with our vibrant and successful ecosystem now and in the future."
Alejandro Daniel, Seidor's Deputy Managing Director, explained: "it is a great honor to receive a new SAP Pinnacle Award that represents a recognition of our trajectory and reinforces our commitment to a strategy based on customer focus and excellence in execution".
"There are more than 20,000 partners worldwide from which only 27 were chosen to receive an SAP Pinnacle Award and Seidor was one of them," said Tomas Fertig, President & CEO of Seidor USA. "Seidor is helping to transform the way SMEs and large corporations manage their businesses and this recognition reinforces our commitment to provide value to our customers. As we look ahead to the coming months and years, we will continue walking with them in the U.S. and around the world, through their business solution adoption journey," concluded Fertig.
SAP Pinnacle Awards shine a spotlight on SAP's partners' remarkable contributions, acknowledging their dedication to teamwork, innovative approach and capacity to challenge what is possible to help customers achieve their goals. Seidor is one of the 27 outstanding partners worldwide that SAP recognizes with this prestigious award.
Source: Seidor
Related Files
Additional Links