SEIDOR Receives 2022 SAP Pinnacle Award
Press Release
•
Apr 27, 2022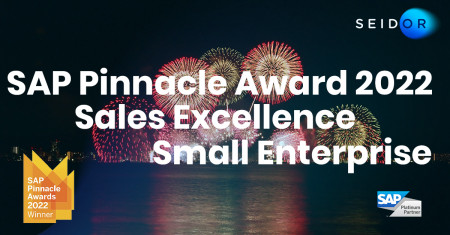 HOUSTON, April 27, 2022 (Newswire.com) - The SAP Pinnacle Award for Sales Expertise - Small Enterprise recognizes SEIDOR, a multinational consulting firm specializing in technology services and solutions, as the partner that exceeded understanding of the customers' needs and fulfilled those needs with SAP solutions.
Sharing the unique value proposition of SAP solutions and the concrete business outcomes to be attained, SEIDOR helped solve customer problems and empowered customers to tackle the challenges and opportunities of tomorrow.
Out of more than 20,000 SAP partners worldwide, only 22 received an SAP Pinnacle Award this year for their commitment to creating value and exponential business growth and improving the performance of their customers' organizations through technology. The winners and finalists in the 22 categories, chosen based on SAP recommendations, customer feedback, and performance indicators, are rewarded for their dedication to teamwork, innovation, and ability to help customers achieve their goals.
SEIDOR has consistently received SAP Pinnacle Awards, including the following:
2021 - SAP Pinnacle Award Partner of the Year - SAP Business One
2020 - SAP Pinnacle Award ERP Partner of the Year - Small/Midsize Companies
2019 - SAP Pinnacle Award ERP Partner of the Year - Small/Midsize Companies
"With the SAP Pinnacle Awards, we recognize top-performing partners who have excelled in helping customers become best-run businesses," said Christian Klein, CEO, and Member of the Executive Board of SAP SE. "The winning partners have been chosen based on their commitment to customer value creation, exponential growth, and simplification. Together, we support our customers on their journey to becoming intelligent, sustainable enterprises."
Ready to learn more about SEIDOR USA? Learn more at www.seidor.com.
About SEIDOR
SEIDOR, a Platinum award-winning local SAP partner, is a technology consultancy firm that offers a comprehensive portfolio of solutions from SAP, including SAP S/4HANA, SAP Business ByDesign, SAP Business One, SAP SuccessFactors, and SAP Analytics. SEIDOR also provides consultancy, implementation, development, and maintenance of applications and infrastructure and outsourcing services. With a global workforce of more than 5,400 highly qualified professionals, we have a combined history of successfully serving more than 8,500 customers in 38 countries, including the United States, Europe, Latin America, the Middle East, Africa, and Asia.
Source: SEIDOR USA