SEIDOR Announces SAP Concur Reseller Agreement
Press Release
•
updated: Aug 12, 2020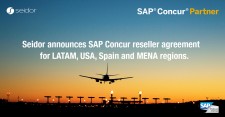 HOUSTON, August 12, 2020 (Newswire.com) - Seidor, the multinational consulting firm specializing in technological services and solutions, today announced a reseller agreement with SAP® Concur® – the world's leading brand for integrated travel, expense, and invoice management solutions. As part of this agreement, Seidor will now offer SAP Concur solutions to the public sector in the US.
The way money is spent in the public sector on travel, expenses, and invoices matters. Seidor now takes care of city managers, government contracting, state and local, higher education, and kindergarten through grade 12, by providing them with cloud solutions that deliver transparency and efficiency across public sector spend, from request to payment.
An SAP platinum partner, the firm has the capability to help small and medium-sized businesses (SMBs) and large corporations in the evaluation of all three SAP ERP solutions: SAP Business One®, SAP® Business ByDesign®, and SAP S/4HANA®. The company is now expanding its SAP solution portfolio to include SAP Concur solutions in order to better help entities in the public sector save money, improve productivity, and focus on serving constituents, communities, students, and contractors.
"Visibility matters most in times of uncertainty. Today's difficult economic environment presents public sector entities—no matter what size—with the opportunity to embrace digital transformation. The technology allows them to quickly adapt to changes and control costs while helping to ensure employee safety and satisfaction," said Tomas Fertig, President and CEO of Seidor USA. "We look forward to delivering success to our customers, as well as helping them obtain value from their technology investment now and in the future."
SAP Concur solutions automate spend management, allowing Seidor to offer significant value to its customers by helping them with their travel, expense, and invoice challenges. The public sector can now benefit from a robust platform of cloud-based tools that will allow them to achieve new levels of expense control while maintaining maximum flexibility for the user community – all with total transparency.
Source: Seidor USA
Related Files