SeeDevice Recognized as 'Company of the Year' of Top 10 Semiconductor Tech Startups 2023 by Semiconductor Review
Press Release
•
Oct 16, 2023
SeeDevice Inc., a pioneering leader of QMOS™ SWIR sensor was awarded Company of the Year of Top Semiconductor Tech Startup 2023 by Semiconductor Review. This award recognizes the absolute top performer in the semiconductor industry for its excellence in advanced technology development and business.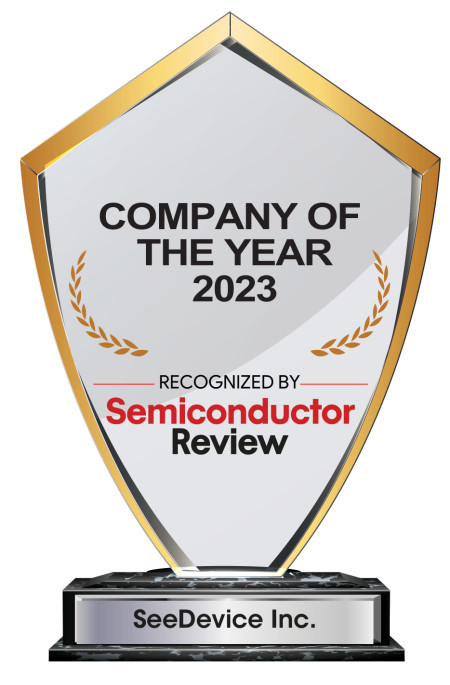 ORANGE, Calif., October 16, 2023 (Newswire.com) - SeeDevice Inc., the fabless QMOS™ (Quantum effect CMOS) SWIR sensor developer, proudly announced that it has been recognized as Company of the Year of the Top 10 Semiconductor Tech Startups 2023 by Semiconductor Review, an established magazine that provides comprehensive views of recent developments in the semiconductor space. This award is evaluated by a panel following the standard MCDA (multi-criteria decision analysis) method and peer recommendation.
SeeDevice's technology was developed to extend the range of pure CMOS sensors by leveraging two key concepts - plasmonics and quantum tunneling - to see beyond visible light into the short-wave infrared (SWIR) region while overcoming the high costs associated with exotic material-based SWIR sensors. The resulting technology has exceeded expectations and outperformed expensive competitors, attracting the attention of various industries.
"SeeDevice's patented silicon-based quantum effect photodetector technology delivers high-performance SWIR capabilities in proven, cost-effective standard CMOS processes. It enables mass production and we're ready," said Dr. Hoon Kim, Founder and CEO of SeeDevice.
Dr. Kim, a semiconductor pioneer with over 25 years of research experience in nanophotonic and quantum electronics, has been recently invited to give a keynote speech at IQTNYC 2023, the leading conference and exhibition organization covering quantum computing and technology worldwide.
SeeDevice is positioned at the forefront of the industry, offering high sensitivity, nanosecond integration time, scalability, and wide dynamic and spectral range (200-1650nm) to provide unmatched performance for clients' needs spanning across biomedical, automotive, surveillance, agriculture, and consumer products like mobile phones and machine vision-enabled industry applications. Recently, SeeDevice has successfully developed a NI-CGM (Non-invasive continuous glucose monitoring) device and is currently in clinical trials with plans to enter the CGM market soon.
"SeeDevice closed nearly 10 million dollars of Series A funding and plans to invite the investors for our Series B round in the near future," said Sean Oh, Sr. VP of SeeDevice.
"SWIR has not been actively explored due to technical limitations despite its high potential. We will be the game changer for popularizing SWIR sensors worldwide by utilizing them for industrial applications and products that are more accessible to consumers," said Dr. Kim.
About SeeDevice Inc.
SeeDevice is a fabless image sensor development company empowering the next generation of smart devices with its patented QMOS™ (Quantum effect CMOS) SWIR image sensor. SeeDevice's sensor can send high-fidelity image data to AI vision systems and monitoring devices. QMOS™ delivers an industry-leading ultra-wide spectrum of spectral range and among the highest infrared sensitivity by using innovative quantum pixel technology to advance CMOS process sensors.
To learn more about SeeDevice Inc. and QMOS™ technology, please visit www.seedevice.com.
Source: SeeDevice Inc.
Related Files