Security On-Demand Partners With Infocyte to Provide Cyber-Threat Response & Remediation Service
Press Release
•
updated: May 4, 2021
New ThreatWatch Response and Remediation Managed Service mitigates cyber-attacks and speeds response to compromised systems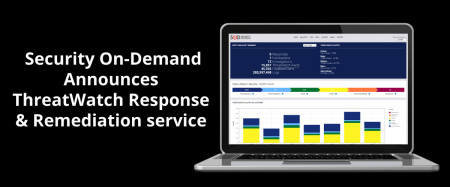 SAN DIEGO, May 4, 2021 (Newswire.com) - Security On-Demand Inc. ("SOD") today announced the release of ThreatWatch Response & Remediation Service (RAR). ThreatWatch Response & Remediation is a part of Security On Demand's ThreatWatch suite of integrated threat management services and is offered as an enhancement to SOD's foundational ThreatWatch Detection and Analytics Service.
ThreatWatch RAR is designed to provide an automated capability to respond to or contain an attack or suspected compromise. Peter Bybee, CEO of Security On-Demand said, "The major challenge today is that many solutions and service providers offer the capability to remediate a threat, but rarely are such procedures implemented due to complexity of the directives about when to quarantine a system or process."
Security On-Demand's approach is to combine log events with forensic data gathered from each endpoint or server to create a holistic view of threat indicators that may not be able to be identified through system logs alone. ThreatWatch RAR helps to improve detection accuracy and reduces false positives that often plague and slow down IT's resources on taking decisive action that can impact business operations from a fast-moving threat, such as ransomware.
SOD's ThreatWatch Response & Remediation service incorporates technology and remediation capabilities provided by Infocyte, a leader in advanced detection and response. Infocyte's chief executive officer, Curtis Hutcheson said, "We're extremely pleased that Security On-Demand has so deeply embedded our technology into their offering. Infocyte's forensic endpoint detection and response capabilities combined with SOD's ThreatWatch Threat Analytics service is a powerful combination in the fight to combat and quickly respond to cyber-threats."
Security On-Demand provides its ThreatWatch Advanced Detection and Analytics offerings through select, value-adding partners such as Managed Service Providers, telcom carriers, risk consulting organizations, and cloud service providers. SOD's ThreatWatch and Managed Security Services are available through its network of partners and solution providers (www.securityondemand.com/success-program).
About Infocyte
Founded by the leaders of the United States Air Force Cyber Incident Response Team (AFCIRT), Infocyte is the globally trusted leader in proactive threat detection, incident response, and Microsoft 365 security compliance. The world's leading security and incident response companies use Infocyte's platform to proactively detect and respond to vulnerabilities and threats within their customers' endpoints, data centers, and cloud environments. Infocyte's team and partner ecosystem help organizations maintain compliance, reduce risk, optimize security operations, and scale security teams.
About Security On-Demand
Security On-Demand (SOD) provides 24x7 advanced cyber-threat detection services for mid-market companies and state or local government agencies. SOD's patented, behavioral analytics technology platform, ThreatWatch® enables the detection of advanced threats that help protect brand value and reduce the risk of a data breach. Headquartered in San Diego, California with R&D offices in Warsaw Poland, SOD protects hundreds of brands globally and is the winner of multiple industry awards. Please visit us at www.securityondemand.com. Find us on LinkedIn and follow us on Twitter @SecurityOnDmand.
Source: Security On-Demand
Tags
Related Files