Secura - Beautiful, Adaptable Wooden Clips for Any Camera That Redistribute Weight to Reduce Neck Strain
Secura is a simple, practical pair of clips for photographers to relieve neck discomfort and increase mobility by redistributing camera weight from the neck to the straps of a backpack. These affordable clips, made of Slovene wood and metal, offer professional and amateur camera-users the freedom to move and look around naturally, providing a firm hold free from neck pain - all with no extra straps.
Press Release
-
Jul 19, 2016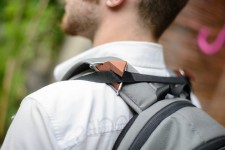 Ljubljana, Slovenia, July 19, 2016 (Newswire.com) - ​​​​​Now on Kickstarter! Picture Pack here!
Secura was designed to deliver a tactile user experience. The fitting process is intuitive and satisfying, with positive feedback when the wooden block is slid firmly into the metal clip, securing it to the bag strap. The camera is secured by simply throwing the camera strap a little further over the shoulders and pulling. Sustainability was a primary concern when it came to material choice, locally sourced Slovene hardwoods such as Maple, Walnut and Pear were chosen to minimise transport emissions. Stainless Steel was used for its long-lasting toughness and resistance to corrosion. These materials are chosen for their longevity, allowing each Secura to age gracefully for years to come. ​Secura was designed by Irish designers Moses Rowen and Karl Rabbitt.
"Secura is the simplest solution to a problem all photographers face" says Bojan Stepančič, photographer and co-inventor of the Secura clip, "It offers photographers who use backpacks the opportunity to reduce neck strain and its potential long-term health problems, and this Kickstarter campaign, to raise €4000, will help us to start manufacturing and deliver Secura around the world".
By stabilising the camera with two restraint points, Secura reduces camera bouncing and swaying, while allowing for more steady shots. Small and easy to attach and remove, the clips don't damage or pierce the bag. Secura combines locally-sourced, sustainable hardwoods and stainless steel metal to create strong clips with a stylish design that connects any camera strap to any single or two-strap backpack.
"Honestly I was surprised at how effective they were when I first tried the prototype. It's been really exciting to work on creating such a practical tool that can effectively help photographers - these little clips actually solve a problem!" says Ethan Grant, Product Manager. "We're really excited to be creating a practical, affordable tool that's by photographers, for photographers."
Fate and serendipity brought Slovene co-inventors Bojan Stepančič, a professional photographer, and Tadej Bostjančič, an entrepreneur and product manager, together with Ethan Grant, an Irish product manager and designer, while a common desire to solve everyday problems led them to form Obscura Gear, the group behind Secura.
In this way Secura is fundamentally a product of Slovene and Irish collaboration - of European innovation. The team believes this to be a 'best of both worlds' situation - sourcing quality hard woods and taking advantage of the woodcrafting tradition in Slovenia, while using Ireland as a portal to access the global market.
Bojan has 15 years of professional photography experience with companies such as Lenovo and Nikon, including two years as the official photographer of the office of the European Commission in Slovenia, and Tadej has experience in risk management and has worked on sports and consumer products. Ethan leads The Ponchi Collective, a small predominantly Slovene-Irish team of Designers, Researchers and Communication Specialists focused on bringing projects to life. Their crowdfunding experience includes projects such as the Hillstrike Snowstrike and Zen Egg.
To learn more about the team and how to support Secura contact our media team below and check out the Kickstarter campaign! Check out our Picture Pack too!
Media Contacts
Tom Doran
​+44-74-6358-8937
press@obscuragear.com
Electra Mar
+38651853228
​press@obscuragear.com​​
Source: Obscura Gear
---
Categories: Design and Architecture
Tags: Camera, Cameras, Comfort, Design, Health, Innovation, Photographers, Photography, Sustainable
---