Secrets Behind the World's Second '8 Curves Design' Smartphone: DOOGEE BL5000
Press Release
•
updated: Jul 28, 2017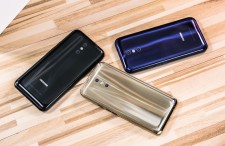 Hong Kong, China, July 28, 2017 (Newswire.com) - Regarded as the most beautiful smartphone with big battery capacity, DOOGEE BL5000 had officially launched this week. The device is on pre-sale in Aliexpress at $139.99, an unbelievably low price comparing to other competitors. As the hot sales going on, 1,000 discounted units are almost sold out in two days.
Maybe you have already knew the specs of BL5000, that it comes with 5050mAh large battery capacity, 13.0MP dual cameras, octa-core CPU and the most striking part, 8 curved sides in body and shining radiance in the back. These respectable specs gave it a high cost-performance ratio.
Actually, there are still some interesting and practical functions that worth to be mentioned in BL5000, some may surprise you. So, today we are going to talk about 10 facts you may not know about DOOGEE BL5000.
1. Up to 650nit brightness in the 5.5" FHD display, it is brighter than iPhone 6, Mi 6, and most of the smartphones in markets now. The ultra-bright display is clear and sharp even under the direct sunlight.
2. The 8 curves design in BL5000 means all corners are rounded and have no hard edges, which enhance the grip in hand greatly.
About BL5000's appearance: https://www.youtube.com/watch?v=Ye0Vg4fGD5c
3. BL5000 successfully introduced dual camera design in the low-tier product. And the second camera works in blur mode in which you can adjust the blur range and degree with one touch. The blur effect in camera is now the most popular function, as you can see in iPhone, Huawei P10 and Mi 6.
4. DOOGEE worked with ArcSoft in their software optimization. In case you don't know, ArcSoft is the leading imaging software company who is cooperating with OPPO and Vivo. So don't be surprised that there is beauty face mode with two options, one is the simple and one-key beautify, and the other one-custom mode, enables adjustable whitening, buffing, eyes-enlarging and slimming effect.
5. BL5000 has the mid-end flagship standard specs of 4GB of RAM and 64GB of storage, with the price of $139.99 which is lower than the market price level.
6. Supporting 4G LTE all over the world with multiple bands. You can choose two different SIM card options: dual SIM standby when you travel abroad or one SIM card and one MicroSD card work at the same time.
7. DOOGEE UI 1.0? Of course! Not only the brand new UI it presents, but the powerful DIY function would set you free to customize your phone with wallpapers, themes, animation effects.
8. The big battery comes along with fast-charge of up to 12V-2A. It takes only two hours to power BL5000 up to 100 percent. Moreover, 10 minutes of charging will be enough to keep it work for 5 hours.
9. A secret function with OTG supported: You can charge other phones with your BL5000! Android and IOS are both compatible with it. The 5050mAh battery volume is enough to power up two iPhone 7s, according to DOOGEE lab.
10. Last fact: BL5000 is on pre-sale from 25/07 to 01/08, only 1,000 units limited are on sale at $139.99 and leather case is given as bonus.
Purchase link: http://bit.ly/2us2Brc
Appearance video of BL5000: https://www.youtube.com/watch?v=4L7q6esXrPw&
Source: DOOGEE
Related Media
Additional Links