Second Citizenship More Affordable Than Ever; but Time is Running Out
Press Release
-
updated: Feb 8, 2018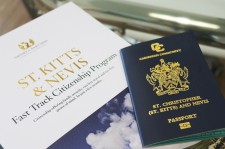 DUBAI, United Arab Emirates, February 8, 2018 (Newswire.com) - Experts at Savory & Partners, one of the largest companies in the Middle East that provides citizenship-by-investment programmes, said that high-net-worth families in the GCC contributed to a 76 per cent increase in demand for second passports from Europe or the Caribbean in the last quarter of 2017. But that demand will subside after 31st of March 2018 when prices are expected to increase.
The top three nationalities that contributed to this spike in demand are Syrians with 31 per cent, followed by Yemenis by 18.6 per cent, and Lebanese by 9.7 per cent, although overall Yemenis still account for less than 10 per cent of overall demand.
Demand triggered by political and economic instability in the region and compounded by restrictive immigration policies enforced by some Middle East countries and the United States has compelled many businesspeople to invest in a second citizenship. The fact that the second passport can be obtained in just 3-4 months is an additional incentive.
But while the significant upturn is partially down to geopolitical factors, recent significant price decreases in countries like Antigua & Barbuda, Saint Kitts & Nevis and Grenada has further increased application volumes. However, on 31st of March 2018, the 6-month period for the St. Kitts and Nevis Hurricane Relief Fund (HRF) will end and prices will go back up to the previous levels.
Second passports can help provide businesspeople in the region with more security for their families and businesses, as well as the freedom of movement.
Jeremy Savory, founder and CEO, Savory & Partners, commented: "The last quarter of 2017 saw a great increase in the number of families applying for second citizenship".
The main reason is that the country of Saint Kitts & Nevis, for instance, is accepting a family of four members for as low as $150.000 when five months ago it would have cost more than $300.000. However, this option expires in 50 days' time, so applicants should start preparing their files immediately.
Mr Savory adds: "We are one of the few companies in the GCC to be accredited by all 5 Caribbean jurisdictions. This means we are not limited when trying to help our clients find the most affordable programme. And even when the HRF will end on 31st March 2018, there are other options."
All the countries that have a fast-track citizenship-by-investment programme offer a passport that allows visa-free entry to more than 140 countries. These countries comprise the Schengen area states in addition to the UK, China, Singapore and Russia.
Caribbean countries also have excellent ties with the GCC, which makes their passports the most-sought-after by many Middle Eastern investors.
-ENDS- 
About Savory and Partners:
Savory & Partners is a British owned, multiple - Government approved, family company. Established in 1797 to service the medicinal needs of the British Royal Family, for which it received the Royal Warrants, the family shareholders continue to maintain their core values of ethics and professional conduct in the citizenship-by-investment industry.
For all media related queries, please contact:
Hassan Soukar,
​Corporate Communications,
​Savory & Partners,
Email: hassan@savoryandpartners.com
​Phone +971 4 430 1717
​Cell +971 56 2839976
Source: Savory & Partners
Share:
---
Categories: A&E News, Business Process Management, Agents and Representation
Tags: Caribbean countries, golden visa, Second citizenship, second passport
---