Sebastian Riding Associates Earns Certified Autism Center Designation
Press Release
•
updated: Mar 6, 2019
First of its kind to receive designation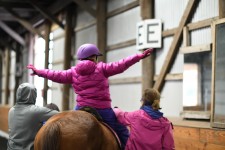 JACKSONVILLE, Fla., March 6, 2019 (Newswire.com) - ​Sebastian Riding Associates has earned the designation of Certified Autism Center (CAC) to help ensure children and adults on the autism spectrum have the best possible experience when receiving equine assisted therapy from the nonprofit. It is the first of its kind in the nation to receive the certification.
The designation, awarded by the International Board of Credentialing and Continuing Education Standards (IBCCES), indicates that at least 80 percent of the staff have been trained and certified in autism, as well as a commitment to ongoing training. For Sebastian Riding Associates (SRA), this also meant training long-time volunteers who work with staff to provide services.
Chris Hanebury, executive director, shares, "We are so proud that Sebastian Riding Associates has become the first equine assisted activities and therapy (EAAT) program to obtain the Certified Autism Center designation through IBCCES. This designation demonstrates to our families and our community the commitment of our organization and our exceptional staff to individuals with autism."
SRA offers therapeutic riding programs to children and adults living with varied mental health, physical and intellectual disabilities. In 2018, 35 percent of the student population had an autism spectrum diagnosis and to best serve these individuals, SRA decided to pursue the training. The training has provided our staff with a better understanding of the learning challenges to help them meet the need of their students.
"IBCCES is proud to work with an organization that helps so many individuals. We know animal interaction and therapy can have a huge impact, so we were excited to partner with such a special organization," said Myron Pincomb, IBCCES board chairman.
For almost 20 years, IBCCES has been the industry leader in certification and training for healthcare, education and corporate professionals around the globe. Many families and individuals are now seeking out organizations and destinations that have completed evidence-based training and professional review to ensure the best experience possible.
About Sebastian Riding Associates
Established in 1975, Sebastian Riding Associates (SRA) is a community-based nonprofit organization dedicated to providing equine assisted activities and therapy programs for individuals living with disabilities. These programs provide opportunities for students to achieve goals that enhance cognitive functioning, emotional wellness, physical benefit and social development with the help of a horse.
About IBCCES
Delivering The Global Standard For Training and Certification in The Field of Cognitive Disorders - IBCCES provides a series of certifications that empower professionals to be leaders in their field and improve the outcomes for the individuals they serve. These programs are recognized around the world as the leading benchmark for training and certification in the areas of autism and other cognitive disorders. As part of our commitment to sharing the latest innovations and research, IBCCES also hosts the International Symposium on Cognitive Research and Disorders to create a forum for collaboration among industry stakeholders.
MEDIA CONTACTS:
Christine Hanebury
Executive Director, Sebastian Riding Associates
610-489-2741
​sebastainriding@verizon.net
Meredith Tekin
President, IBCCES
904.508.0135
meredith@ibcces.org
Source: IBCCES