Seattle PI Emphasizes Relationship Empowerment as Led by HelloPrenup's CTO—Sarabeth Jaffe
Press Release
•
Jul 19, 2022
HelloPrenup's trailblazing co-founder and Chief Technology Officer, Sarabeth Jaffe, is featured in the Seattle Post-Intelligencer to discuss her career journey and "fate" leading to HelloPrenup.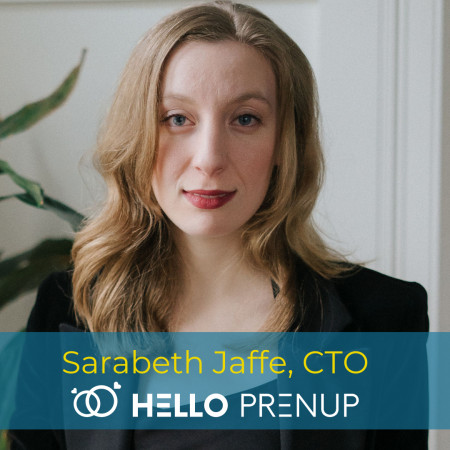 SEATTLE, July 19, 2022 (Newswire.com) - The article, "How Sarabeth Jaffe Leads Relationship Empowerment Through HelloPrenup," features how Sarabeth is spearing the Legal Tech industry by helping all couples, regardless of net worth, to complete a smooth prenup process entirely online.
Sarabeth is a passionate tech entrepreneur and advocates for women's financial freedom. Before her work at HelloPrenup, Sarabeth earned a B.S. in Computer Science from Rensselaer Polytechnic Institute. Since earning her degree, she has worked for Technology powerhouses such as Microsoft, Unloop, Karat, and more. However, it was not until she got engaged and was presented with the typically steep prices of a prenup drafted by lawyers that she encountered Julia Rodgers, Esq. and her pioneer prenup company, HelloPrenup.
After cold-emailing Julia, pitching her vision for the unprecedented platform, and joining as CTO and co-founder, the two became a "powerful legal tech duo helping fiscal-minded couples easily plan their prenuptial agreement." In November of 2021, the legal-tech startup duo was featured on ABC's Shark Tank, where they secured investment from "sharks" Kevin O'Leary and Nirav Tolia. To date, HelloPrenup has helped thousands of couples discuss their marital plans, promote financial transparency, and serve as a modern thought leader for all things prenups. Sarabeth is truly a force to be reckoned with. As noted in the article,
"Sarabeth guided Hello Prenup to new heights in less than a year. After becoming the co-founder of this platform [HelloPrenup], she rebuilt the whole software set-up from the ground up in just three months. This eventually helped Hello Prenup gain more traction and media attention." — StoryStudio, Seattle PI
HelloPrenup is the leading and original online platform offering affordable prenuptial agreements at a fraction of the traditional cost while significantly improving the prenup experience by offering a prenup within hours rather than months. The platform was built on the belief that all couples deserve the right to protect their financial security with an approachable, affordable, and collaborative prenup—regardless of their net worth.
Prenuptial agreements provide overwhelming benefits for couples regardless of how big or small their assets and debts may appear. Getting on the same page before marriage proposes opportunities for couples to mitigate some of the leading causes of divorce (i.e., money and kids) and obligations during the marriage (e.g., financial responsibilities, property division, etc.). Visit HelloPrenup.com to learn more.
HelloPrenup has been featured on Shark Tank, in CNN Business, Forbes, The Boston Globe, GeekWire, The New Yorker, among others.
Source: HelloPrenup