Scott Niehaus Celebrates 23 Years of Outstanding HVAC & Heating Service in Gainesville, Florida
Press Release
-
updated: Nov 16, 2017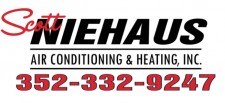 GAINESVILLE, Fla., November 16, 2017 (Newswire.com) - ​Scott Niehaus has been recognized for 23 years of outstanding service with his family-owned HVAC and Heating company. This recognition is, in part, a result of Scott Niehaus and his family's diligent work within the Gainesville, Florida area. Specifically, he works to establish a personal relationship with each customer and provide them with peace of mind.
Scott Niehaus, a native of Gainesville, Florida, has been involved with the HVAC and heating world for the past two decades. He and his family maintain employees and customers for decades. This high retention rate highlights the loyalty and continued success his company provides their community. The business began with his parent's vision of creating an extraordinary HVAC and heating company in Gainesville, Florida.
In response to a question regarding the driving force behind his success, Niehaus explains how it boils down to respecting each customer and staff member. They have a firm commitment to their community and truly serve each customer to a greater extent than other HVAC and heating companies. Scott Niehaus and his team are able to do this through educating their customers when they need them most. "People call us when they are experiencing discomfort; this makes them vulnerable and susceptible to ill practices. Therefore, we inform them of the details of their issue, prior to performing the work, and explain how we will resolve the issue quickly," explained Scott Niehaus. This additional support exceeds their expectations, which is reflected in their sustained growth and multiple 5-star reviews.
Reflecting on the recognition Niehaus is quoted as saying: "Our team continues to build solid relationships with our customers; this trust allows them to feel confident when referring us to their family members and friends. We enjoy being a vital part of our community and participate in our church regularly. I am an active father of two extraordinary children. My daughter is in college and my son is in high school."
Scott Niehaus reminisced on other past achievements, which helped build momentum towards the present day. Most notably, one of the proudest was continuing the family tradition of maintaining strong relationships within the community. "That along with spending quality time with my loving and supportive family fishing, camping and boating," he says.
In the same interview, Scott Niehaus stated his intentions for the future. The primary goal for the next 12 months, Niehaus states, will be remaining active in our church and community and increasing our visibility within our county. Looking further ahead, the aim is to continue to provide reliable, honest, and high-quality HVAC and heating services throughout the greater Gainesville, Florida area.
When asked more personally about how he wants to be perceived and remembered, Scott Niehaus said: "We want to be remembered as the most trusted HVAC and heating company in Gainesville, Florida and as an industry leader."
Scott Niehaus closed the interview by sharing his recommendation for anyone who seeks to grow a successful HVAC and heating business. According to Scott Niehaus, the key is to maintain an excellent attitude no matter what situation you find yourself in and to be completely straightforward with everyone allows you to create trust, a solid reputation, and a lasting business.
Further information can be found on their Facebook page.
Source: Web Presence, LLC
Share:
---
Categories: Business to Consumer, Local News, Air Conditioning, Heating, Refrigeration. Ventilation, and Plumb
Tags: Scott Niehaus, Scott Niehaus Florida, Scott Niehaus Gainesville
---