Scott Central Attendance Center Senior James Darby Achieves an Impressive ACT® Composite Score of 33, After Reviewing With Jumpstart Test Prep
Press Release
•
Nov 3, 2021
Jumpstart Test Prep's curriculum content review and time management strategies proved to be a successful combination by producing a gain of +6 composite points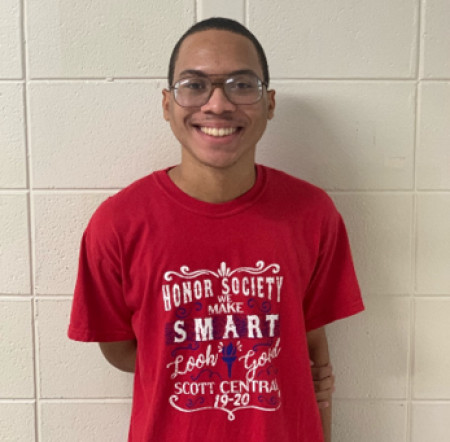 BROOKHAVEN, Miss., November 3, 2021 (Newswire.com) - James Darby, now a senior at Scott Central Attendance Center, who has ambitions to study Health Sciences at The University of Southern Mississippi, found one key to unlock the gate to those dreams through Jumpstart Test Prep. On his fourth ACT® attempt, Darby saw dramatic gains in his performance and improved his composite score from an initial attempt of 27 to a post Jumpstart Review score of 33. James gained in all subtest areas by improving +7 points in English, +6 points in science, +3 points in math, and +3 points in reading. The highest possible ACT® score is a 36 and the national average last year was a 20.8.
It's no secret that discipline and perseverance are key elements to success. Darby knows this well as he is a high achieving student who is involved in both the National Honor Society and the Beta Club. His commitment to achieving success is evidenced by his improvement journey on the ACT®, a test that many high school students dread. John Johnson, a retired educator and principal from Scott County and now serving as Regional Director for Jumpstart Test Prep for Scott Central Attendance Center, applauds Darby for his improvements. "I have seen many students with scores similar to James' who didn't work to further improve. He is to be commended for his attitude of working hard to complete our review program to achieve higher on the ACT®. The right attitude really paid off for him and he has a bright future because of it," said Johnson.
Darby said, "When I first took the ACT®, it was very stressful because it is nothing like an ordinary test. Jumpstart helped increase my confidence by adequately preparing me and concluding with multiple practice assessments." The Jumpstart Review was provided to Darby through Scott Central and he completed the review both virtually and in the classroom. Darby received his improvements on his 17th birthday and said, "It was the best birthday present - Jumpstart helped me achieve my goal and I am so happy about that."
Pam Kennedy, ACT Prep Teacher at Scott Central, shared, "When James received his improvement scores, I was so excited that I wanted to climb a tower and tell everyone because I know the difference that just made in his life!" Kennedy continued, "Jumpstart helped my students so much - it is an overall review of everything they will see on test day and it includes time management skills they definitely needed to learn. I strongly believe investing in students' success by providing the Jumpstart Review to better prepare them is well worth it and I wish all of my students could experience the improvements that James did."
"James represents a number of students who are able to change their futures with large improvements by using our review products to successfully prepare," says co-founder and CEO Sha Walker. "Our review program was developed by legendary 55-year educator Dot McClendon, who has tutored thousands and thousands of students, helping them to perform their best. Jumpstart Test Prep is a proven, modern approach that works for anyone. We are so proud of James for his determination and know he has a bright future ahead."
The company's website, www.jumpstarttestprep.com, describes its program as a review utilizing streaming video modules that are delivered on-demand. The program is designed for classroom integration or individual study and proven to help students of all ability levels stay fully engaged. Students gain the most improvement in the shortest time by learning difficult content in a way that every student can follow and understand. Students follow and complete the accompanying workbook as the review proceeds. Modules review the must-know content, include testing strategies specific to the exam, and conclude with realistic question practice modeled from actual "retired" exams that are provided under time constraint.
According to student reviews of the program on the website, the program also helps students with time management, allowing them to work faster on test day. The company has found that when students are coached step by step, they can quickly secure significant gains, regardless of their initial proficiency in the subject area. Jumpstart's ACT® subject area prep can be purchased à la carte at www.jumpstarttestprep.com.
Source: Jumpstart Test Prep