Scientology Volunteer Ministers Bring Relief in Guatemala
With thousands displaced since the eruption of the Fuego volcano last Sunday and nearly 200 still missing, Scientology Volunteer Ministers provide disaster and trauma relief on the ground.
Press Release
-
updated: Jun 11, 2018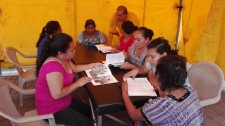 ALOTENANGO, Guatemala, June 11, 2018 (Newswire.com) - Scientology Volunteer Ministers are providing physical and spiritual help to those displaced by last week's eruptions of the Fuego volcano in Guatemala.
When the volcano erupted last Sunday, the entire region was engulfed by a cascade of ash, rock and gas. Those living in villages at the foot of the volcano had only moments to flee. In addition to losing loved ones, many had to leave without any supplies and lost everything they owned. Nearly 200 are still missing. 
Volunteer Ministers are distributing food, water, hygiene kits and other emergency supplies in the shelters set up in the region just beyond the disaster zone. They are providing Scientology assists, techniques developed by Scientology founder L. Ron Hubbard that address the emotional and spiritual factors in stress and trauma.
They also provide assists to rescue workers who are subject to tremendous stress in their work.
Because those receiving these assists often want to learn them to help their friends and families, the Volunteer Ministers provide training in these techniques in their bright yellow tent, along with seminars to help people overcome fear and cope with the dangerous environment.
The Church of Scientology Volunteer Minister program is a religious social service created in the mid-1970s by L. Ron Hubbard. Anyone of any culture or creed may train as a Volunteer Minister and use these tools to help their families and communities. The church provides free online training on the Volunteer Ministers website.
In creating the Volunteer Ministers program, L. Ron Hubbard wrote, "If one does not like the crime, cruelty, injustice and violence of this society, he can do something about it. He can become a Volunteer Minister and help civilize it, bring it conscience and kindness and love and freedom from travail by instilling into it trust, decency, honesty and tolerance."
For more information, visit the Volunteer Ministers website or the Scientology TV Network.
Source: ScientologyNews.org
---
Categories: Philanthropy
Tags: assists, disaster response, Fuego volcano, Guatemala, Scientology Volunteer Ministers
---