Scientology Volunteer Ministers Bring Help to the Town of Fusagasugá, Colombia
Press Release
•
updated: Apr 6, 2016
Church of Scientology of Bogotá set up a bright yellow Volunteer Ministers pavilion and offered unconditional help to the people of Fusagasugá, Colombia.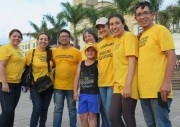 Colombia, April 6, 2016 (Newswire.com) - ​An hour southwest of Bogotá, dozens of people in the town of Fusagasugá in Cundinamarca, Colombia, discovered this weekend why the motto of the Scientology Volunteer Ministers is "Something can be done about it." They learned this by touring the bright yellow Volunteer Ministers tent, attending a seminar or receiving one-on-one help from a Volunteer Minister from the Church of Scientology of Bogotá.
After her visit, a mother who was having trouble with her "unruly" daughter thanked the volunteers. "I realize the mistakes I was making with my daughter," she said. She observed a definite change after the girl received a Scientology assist—one of a class of techniques developed by Scientology Founder L. Ron Hubbard that addresses the spiritual aspects of a person's physical difficulties. "I see her more relaxed now after the assist," she said. She realized she had been making things worse by her lack of patience and she now plans to practice what she learned at the tent to improve their relationship and help her daughter.
The volunteers delivered 40 assists and two seminars to visitors to their tent and invited one and all to visit them at the new Scientology Church that opened in July 2015 in the heart of Bogotá.​
The program, created in the mid 1970s by L. Ron Hubbard and sponsored by the Church of Scientology International as a religious social service, constitutes one of the world's largest and most visible international independent relief forces.
The Volunteer Minister "helps his fellow man on a volunteer basis by restoring purpose, truth and spiritual values to the lives of others."
A global network of Volunteer Ministers mobilizes in times of manmade and natural disasters, answering the call wherever needed. Collaborating with some 1,000 organizations and agencies, they have utilized their skill and experience in providing physical support and spiritual aid at hundreds of disaster sites.
Related Media