Scientology Volunteer Ministers at the Maricopa County Fair
Fairgoers learned firsthand why the Volunteer Ministers motto is 'Something CAN be Done About it.'
Press Release
-
updated: May 26, 2018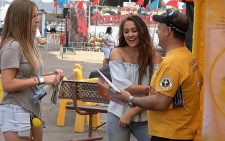 PHOENIX, May 26, 2018 (Newswire.com) - Scientology Volunteer Ministers welcomed Phoenix fairgoers to their bright yellow pavilion at the Maricopa County Fair. The volunteers offered practical help and Scientology assists, techniques developed by Scientology founder L. Ron Hubbard to address the emotional and spiritual components of stress and trauma.
Inside the tent, visitors were introduced to the Scientology Tools for Life: 19 different subjects ranging from communication and marriage difficulties to resolving conflicts, improving study skills, raising happy and self-confident children and accomplishing targets and goals. Displays also cover the work of teams of Scientology Volunteer Ministers who provide relief in times of man-made or natural disasters.
Hundreds of visitors toured through the tent. Those receiving assists walked away feeling refreshed and ready to fully enjoy the fair.
The Continental Volunteer Ministers Cavalcade is an initiative of the Scientology Volunteer Minister program, a religious social service created in the mid-1970s by L. Ron Hubbard. Anyone of any culture or creed may train as a Volunteer Minister and use these tools to help their families and communities. The church provides free online training on the Volunteer Ministers website. Watch the Scientology Tools for Life on Scientology TV.
In creating the Volunteer Ministers program, L. Ron Hubbard wrote, "If one does not like the crime, cruelty, injustice and violence of this society, he can do something about it. He can become a Volunteer Minister and help civilize it, bring it conscience and kindness and love and freedom from travail by instilling into it trust, decency, honesty and tolerance."
Read the article on the Scientology Newsroom.
Source: ScientologyNews.org
---
Categories: Philanthropy
Tags: Maricopa County Fair, Scientology Volunteer Ministers, Something can be done about it
---