Scientology Volunteer Minister on Helping Texas After Hurricane Harvey
Jennifer, a Scientology Volunteer Minister from Nashville, was part of the Scientology Disaster Response Team helping Texas recover from Hurricane Harvey.
Press Release
-
updated: Oct 28, 2017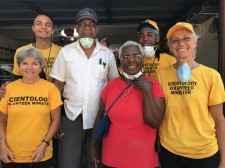 Nashville, Tennessee, October 28, 2017 (Newswire.com) - Jennifer took the words of L. Ron Hubbard to heart in September when she watched as the news poured in about the destruction of entire Texas communities after Hurricane Harvey made landfall. "A Volunteer Minister is a person who helps his fellow man on a volunteer basis by restoring purpose, truth and spiritual values to the lives of others," wrote Mr. Hubbard. 
A Volunteer Minister, now living in Nashville Tennessee, Jennifer, who spent 25 years in and around Austin and San Antonio,  wanted to help.  She joined the Scientology Volunteer Ministers readying emergency supplies in Austin and then took off for Houston once roads were clear.
"We first worked out of a community center, giving out supplies to those with flooded homes," she said. "Next, we went out to the houses, now a mess with mold growing quickly. Furniture had to be moved out of homes right away. Sheetrock had to be cut out ASAP. Many elderly folks needed help moving refrigerators, washers and dryers out onto their lawns."
She also gave Scientology assists on a daily basis to those affected by the hurricane. Assists are techniques developed by Scientology Founder L. Ron Hubbard that help speed healing by addressing the spiritual and emotional factors in stress and trauma.
"The experience taught me that every little bit helps," says Jennifer. "Any help is appreciated and everyone can find some way to help. I considered it an honor to have been there, giving my time and helping to ease another's load in their time of need. It was a great experience for me and I would do it again in a heartbeat."
The Church of Scientology Volunteer Minister program is a religious social service created in the mid 1970s by L. Ron Hubbard. To make this technology broadly available, the Church provides free online training on the Volunteer Ministers website. Anyone of any culture or creed may train as a Volunteer Minister and use these tools to help their families and communities.
For more information, visit the Scientology Newsroom.
Source: ScientologyNews.org
Share:
---
Categories: Emergency and Disaster Relief, Religion, Philanthropy
Tags: Austin, Houston, Hurricane Harvey, Nashville, Scientology Volunteer Ministers, Tennessee, Texas
---