Scientology: Proactive Drug Prevention in Brussels
Press Release
•
updated: Apr 20, 2017
Brussels Scientologists take a multi-pronged approach to handle drug abuse in their city.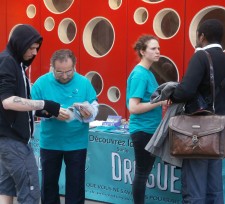 Brussels, Belgium, April 20, 2017 (Newswire.com) - A conference April 6 at the Brussels Branch of the Churches of Scientology for Europe invited community leaders to join a vital initiative. Mr. Robert Galibert of Marseilles, who heads the Church-sponsored drug prevention campaign for French-speaking Europe, told those attending how easy it is to talk to youth about the sometimes touchy but vital subject of drug abuse.
The secret is the Truth About Drugs materials—booklets and videos that get through to young people and get them taking a hard look at the subject.
"I can finally respond to someone who uses drugs without falling into the spiral of disputes."
Galibert let the audience know that by simply following the Educator's Guide for the materials, anyone can successfully inform people about the most commonly abused illicit drugs.
"I can finally respond to someone who uses drugs without falling into the spiral of disputes," said one attendee.
"It was really very interesting," said another, who found the information on how to talk to youngsters very helpful. She works with youth and a number of them have already begun abusing illicit substances so heavily, they have stopped attending school. She realized she now has a tool to change their minds without getting into arguments or making them wrong.
Another who already lectures youth about well-being, wants to add a drug education component to her program and is eager to train on these materials, which the Church is arranging for her to do.
Throughout the afternoon, the Church's Public Information Center, transformed into a drug information center, played the Truth About Drugs public service announcements, sections of the Truth About Drugs: Real People, Real Stories documentary and acknowledgments from officials, educators and community and religious leaders on the effectiveness of the campaign.
Another important facet of the Church's campaign is bringing the truth about drugs directly to Brussels residents by setting up drug information booths in busy locations. This year-round activity includes giving sets of the booklets to shop owners who make them available to their customers, engaging people in discussions to break through any fixed ideas that may prevent them from taking a look at the subject of drug use.
The Foundation for a Drug-Free World is one of the humanitarian programs supported by Scientologists and the Church of Scientology. The Church makes the Foundation's Truth About Drugs materials available free of charge to anyone wishing to use them to help raise awareness of the danger of drugs. In his research, Scientology Founder L. Ron Hubbard discovered that "the single most destructive element present in our current culture is drugs."
Source: The Foundation for a Drug-Free World
Related Media