Scientology News: Caring for Seattle's Kinnear Park on Earth Day
Press Release
•
updated: May 5, 2016
Seattle's Scientology Environmental Task Force and The Way to Happiness Foundation celebrated Earth Day in Kinnear Park, removing invasive blackberry bushes that harm the natural habitat.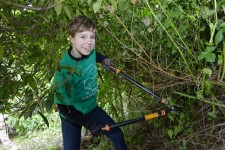 Seattle, WA, May 5, 2016 (Newswire.com) - "Invasive species like blackberries prevent the natural forestation of our open spaces," said Dave Scattergood, forest steward and coordinator of the Task Force. "Removal of invasives allows the native tree species to thrive and opens up space for the planting of new trees or other native plants."
Sixteen volunteers including local neighbors contributed 33 hours to the project of clearing out invasives in the upper park and more work is planned over the summer months.
Now entering its 46th year, Earth Day's theme in 2016 is "Trees for the Earth," encouraging planting and caring for trees and making cities 100 percent renewable.
U.N. Secretary General Ban Ki-moon's Earth Day message forwarded the theme: "One tree on its own may not seem much," he said, "but the Earth Day Network plans to plant 7.8 billion trees over the next five years—each one absorbing harmful CO2 from the atmosphere, storing water and filtering pollutants for the benefit of all humanity. As each tree plays its part in the biosphere, so should we as individuals who care about our planet and every living creature on it. A new future can be ours if we respect and invest in Mother Earth."
Because environmental and moral issues closely interrelate, the Scientology Environmental Task Force promotes The Way to Happiness. Written by author, humanitarian and Scientology Founder L. Ron Hubbard, it is the nonreligious guide to better living for use by anyone of any faith or creed.
In the 12th precept of the code, "Safeguard and Improve your Environment," Mr. Hubbard states, "There are many things one can do to help take care of the planet. They begin with the idea that one should. They progress with suggesting to others they should. Man has gotten up to the potential of destroying the planet. He must be pushed on up to the capability and actions of saving it."
Between now and World Environment Day on June 5, the Church of Scientology Seattle invites other communities to form environmental task forces, take photos of their activities and post them on the Scientology Facebook page or send them to @Scientology on Twitter, Pinterest or G+
"If every neighborhood in America created an environmental task force of even just a dozen people, that would be at least 5 million people working on a common purpose to keep America green," said Scattergood.
The Scientology Environmental Task Force has been part of Seattle Public Utilities "Adopt-A-Street" program since the initiative's inception in the late 1980's and adopted Kinnear Park 15 years ago, contributing thousands of volunteer hours to its upkeep and beautification.
Source: ScientologyNews.org
Related Media