Scientology Naming Ceremony in Rome Welcomes Francesco
Ceremony and celebration at the Church of Scientology of Rome June 26 welcomes the son of two Roman Scientologists.
Press Release
-
Jun 27, 2016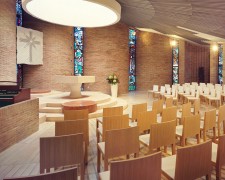 Rome, Italy, June 27, 2016 (Newswire.com) - In the beautiful chapel of the Church of Scientology of Rome on Via della Maglianella, Scientologists gathered Sunday June 26 to celebrate the birth of the son of two Scientologists, Thayla and David.
Surrounded by family and members of the congregation the newborn was welcomed and given the name Francesco in the joyful atmosphere that characterized the ceremonies of the Scientology religion. 
"This was a moment of intense emotion and joy," said his parents."It was not only a very moving ceremony, it was also an affirmation of the warmth and friendship of our community. We know that in addition to our care, Francesco will have the support and friendship of so many truly good people who follow a path of knowledge to spiritual freedom. We hope and wish that our son will continue along this path of knowing how to know, which is the meaning of the word Scientology. That way, we know he will be able to build a future full of joy."
The Scientology naming ceremony has a further importance for members of the religion. Scientologists recognize the immortality of the spiritual being as a fundamental belief and it follows that in starting a new life, a being can experience disorientation. It is therefore important to orient newborns to a new family and surroundings and bring them into communication with their family.
The naming ceremony also reminds parents and godparents of their responsibilities, not the least of which is to impart their own hard-won experience and to provide guidance, while bearing in mind it is for each being to choose his own path in life.
For the full text of the Scientology naming ceremony, visits Scientology.org
Source: ScientologyNews.org
Share:
---
Categories: Religion, Faith, Child Care
Tags: baby, Church of Scientology Rome, infant, naming ceremony, newborn, Scientology
---